Getting the indication from Kalpurush (Yama, God of death), secretary Kumand explained Banasur to leave his enmity with Krishna but he did not listen. Naradji made Usha's feeling for Aniruddha stronger.
Usha started having love talks with the painting of Aniruddha made by her friend Chitralekha.
Just then Banasur came and saw her talking that made him very angry.
So he threw away the painting and the painting struck with the winning flag and the flag fell down.
Banasur remembered Shiva's words and was very happy that now he would get a chance to fight a war.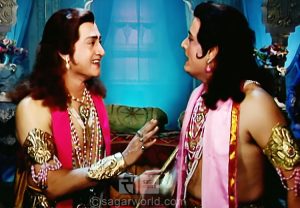 Naradji increased the agitation of love in Usha's mind for Aniruddha. Shri Krishna and Rukmani discussed the love story of Usha and Aniruddha.
Banasur sent a threatening message to Krishna and Balram for this love story. At this, Balram got angry and decided to fight a war with Banasur but Krishna told him about Aniruddha's love for Usha and cooled him down.
Then Balram sent a proposal for Usha and Aniruddha's marriage to Banasur but he rejected it. Usha was bewildered in Aniruddha's love.
Seeing this, Chitralekha told her that she could kidnap Aniruddha and get him there. On Usha's instruction, Chitralekha went and kidnapped Aniruddha to bring him along.
Banasur sent two illusive spies Chitrasen and Veersen to Dwarka to keep an eye on Aniruddha
Chitralekha was on her way back along with Aniruddha when she met Chitrasen and Veersen but with her illusive tricks she cheated them and went ahead. On being asked by Naradji, Shri Krishna told the story of Chitralekha's cursed life: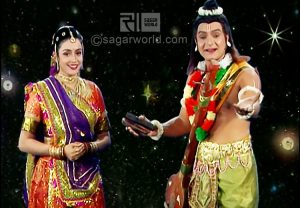 In her previous life, Chitralekha was a heavenly nymph and maid servant of Goddess Parvati and after being defeated by Parvati in the dice game, she took the form of Parvati with her illusive powers and tried to convince Shiva. At this, Goddess Parvati got angry and had cursed her.
Chitralekha reached Dwarka to kidnap Aniruddha. There Shri Krishna stopped her on her way with his Sudarshan Chakra.Chitralekha asked Naradji for help and requested him to give her way through the Chakra.
With Krishna's blessings she gained entry in the palace and took away Aniruddha with her. Balram got very angry when he came to know about Aniruddha's kidnapping. Later, Krishna and Rukmani pacified him.