Chitralekha got Aniruddha into Usha's palace quietly saving him from the sight of the guards.
Usha was very happy to see Aniruddha. Rukmani was very upset on not finding Aniruddha in his room. Shri Krishna told her the mystery of Aniruddha's kidnap.
Banasur's wife Vrinda and secretary Kumand explained him not to fight with Krishna but he was adamant with his love for war and maintained security guards for Usha. Balram was worried for Aniruddha's security. Shri Krishna and Rukmani explained to him not to worry.
Knowing that Aniruddha was in Shonitpur only, Banasur appointed Mayasur who knew illusive tricks to guard Usha.
Then Balram killed Mayasur with his mace but Krishna informed him that the Mayasur that ha had killed was the illusive Mayasur that was his image.
Here, in Usha's room, Chitralekha warned her to be careful with Banasur.
Shri Krishna explained the definition of love to Naradji and said that the time had come to break the ego of Banasur, With Banasur's order Chitralekha took Usha to the Shiva temple in a Palanquin.
Aniruddha also in the disguise of a Kahar (person carrying the palanquin) went along.
On searching Usha's room Banasur came to know that Aniruddha had been successful in running away.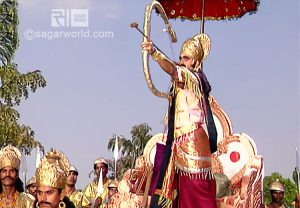 He sent his soldiers in all directions to search for Aniruddha and they encircled him outside the temple.
Illusive Mayasur appeared and fought with Aniruddha. They fought fiercely and in the end Mayasur was killed by Aniruddha.
After this Banasur came and stopped Aniruddha's way. They also fought fiercely.
On seeing Aniruddha fighting with Banasur, Balram got very upset. Then Naradji and Krishna explained to him.
Banasur and Aniruddha fought an illusive war.
In the end, Banasur released such a weapon from which a dangerous snake appeared and captured Aniruddha.
At this, Balram got very angry but Shri Krishna made him see his Chaturbhuj form and pacified him.
To protect Aniruddha and break Banasur's ego, Shri Krishna asked for permission from Shiva to fight with Banasur.