A fierce battle was being fought between Shri Krishna and Vajranabh. Balram and Pradyumna along with their armies fought with Vajranabh.
In the end, Krishna killed Vajranabh. To keep the promise he gave to Vajranabh's grandmother,
Shri Krishna got Vajranabh's daughter Prabhavati married to Pradyumna. Krishna and Rukmani blessed them. Pradyumna and Prabhavati were blessed with a valiant son named Aniruddha.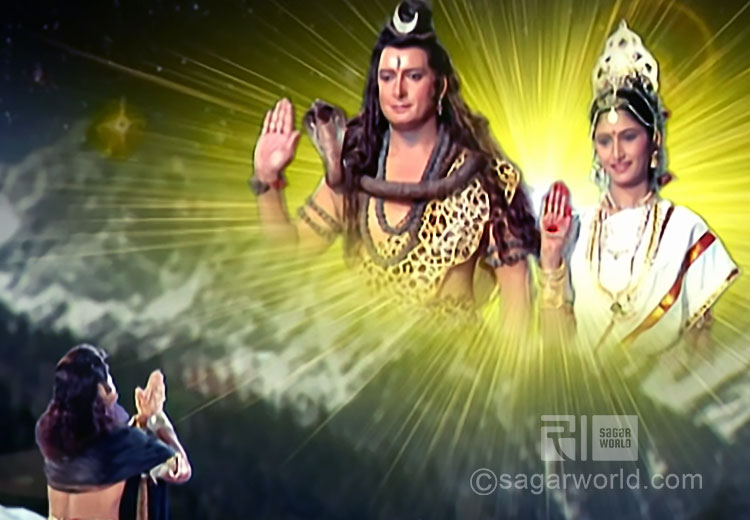 Rukmani told Krishna that he had established religion during his incarnation and now he should retire from the incarnation.
Krishna said, "Before leaving this earth and finish the incarnation, I have to break the ego of Banasur who is a devotee of Shiva."
Shiva, pleased with the devotion of Banasur, protected his town himself.
Banasur got Shiva's special favour. Shiva's elder son Kartikeya gifted Banasur a boon in the form of a divine Mayur vimaan as his carriage. Riding on this, Banasur defeated the deities, demi gods and many more.
Banasur was full of pride due to his success and told Shiva, "God, no one wants to fight with me; I am upset and want to fight with somebody." Shiva said, "The day your wining flag will fall, that day you will get a chance to fight a war."
Banasur's daughter Usha was very beautiful and a great devotee of Goddess Parvati. Devi Parvati awarded her a boon that on the night of Baishakh dwadeshi (12th day) the man whom she will see in her dreams will be married to her. That night, she saw Aniruddha in her dreams and was fascinated by him.
Banasur thought that he was immortal and was very proud. Lord Shiva was worried to see his ego and requested Krishna to break his ego. Here, Banasur's wife Vrinda was worried about her daughter Usha's marriage.
She trusted Goddess Parvati. Banasur was very happy on getting the boon from Shiva for a fight and decided to organize a swayamvar (a choice of husband made by a princess in public) for his daughter Usha.
He announced that the one who will make his winning flag fall, could marry Usha. At this announcement many princes came and tried to drop the flag but no one succeeded.
Then Banasur himself walked up to the flag to make it fall but Shiva told him through divine utterance that he could not make his own flag fall.
After the meeting of Usha and Aniruddha in dream, her friend Chitralekha laughs at her.  As for the love story of Usha and Aniruddha, Krishna ordered Devarshi Narad to show the right path to Usha who was blindly in love with Aniruddha.