Guru Dronacharya was appointed as chief of the army. Duryodhan was happy that his friend Karna would fight the battle the following day.
Lord Indra was worried because along with Karna his son Arjun's life would be in danger too.
Karna every day, after worshipping Lord Surya, gave donations to Brahmin's. Indra advised Krishna to take advantage of this and snatch away his armour and earrings.
Shri Krishna asked him to fulfill his duty as a father. After this, even Lord Surya came to Krishna and expressed his worry about his son Karna's life. Krishna told him also to carry on his duty as a father. Lord Surya warned Karna but he was not ready to compromise on his daily routine of charity.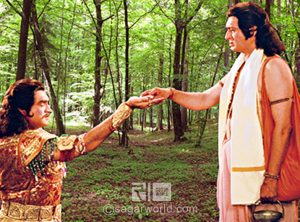 After the sunrise, Karna worshipped Surya then Indradev came in the disguise of a Brahmin and asked him for his armour and earrings as donation. Karna happily gave away armour and earrings.
Being pleased with Karna's generosity, he gave him a powerful celestial weapon.
Guru Dronacharya created a Chakravyuh (an array of soldiers in the form of a circle, like a maze) and planned such a militarism that Arjun could be kept away from the Chakravyuh.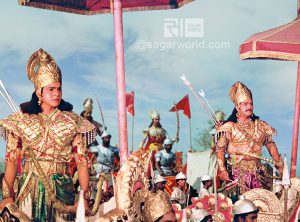 According to this plan, Arjun had to go towards the south while fighting. Here Dronacharya first created Garud Vyuh (a kind of battle array) which slowly got converted into Chakravyuh.
The soldiers in the Chakravyuh started killing Pandavas' soldiers. Yudhishthir was worried because apart from Arjun and Krishna, no one knew how to penetrate the Chakravyuh.
Just then, Abhimanyu came and asked for permission to penetrate the Chakravyuh and said that he knew how to get into the Chakravyuh but did not know how to get out of it
Yudhishthir permitted him to get in. Bhima, Nakul and Sahadev went behind Abhimanyu but Jaydrath who was standing outside the Chakravyuh did not allow them.
Inside the Chakravyuh, Abhimanyu killed Duryodhan's son Lakshman. At this, Duryodhan got very angry and along with Karna, Dronacharya,Dushashan and Shakuni attacked Abhimanyu. 
Abhimanyu fought gallantly. In the end, the Kaurava soldiers brutally slaughtered Abhimanyu.Arjun was very sad at the death of his son and vowed to kill Jaydrath, the main cause of Abhimanyu's death.