On seeing Arjun coming out of Bhishma Pitamah's camp, Duryodhan and Shakuni accused Bhishma to be partial towards Pandavas. Bhishma could not bear this accusation; he thought to be the insult of his faithfulness to Hastinapur. Next day, during the war, he attacked the Pandavas' army and created havoc.
Shri Krishna asked Arjun to face Bhishma. Arjun could not gather courage to do so. Then Shri Krishna himself attained Sudarshan Chakra to face Bhishma.
Lord Shiva on being asked by Parvati told her the reason for Krishna attaining Chakra in order to keep the promise of Bhishma, Shri Krishna had done this.
Seized in son's love, Dhritrashtra uttered bad words to Krishna. In the end, Shri Krishna took back his Sudarshan Chakra after Arjun took a vow to kill Bhishma.
Arjun fought gallantly in the next day's battle. At this, Duryodhan got scared and called for the illusive demon named Alumbal to fight the battle. Bhimsen called for Ghatotkach to face him. An illusive battle was fought between the two.
Alumbal ran away after getting defeated. Bhima and Adityaketu also fought and Bhima killed Adityaketu and also killed Duryodhan's seven brothers.
Dhritrashtra and Gandhari were very sad hearing about this. Duryodhan was very angry and insulted Bhishma and then Bhishma vowed to kill Pandavas. Draupadi got very upset with Bhishma's oath. On Krishna's advice, Draupadi took a boon from Bhishma to remain Soubhagyawati (a woman whose husband is alive) and put him in a fix.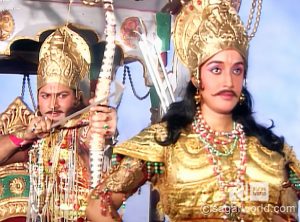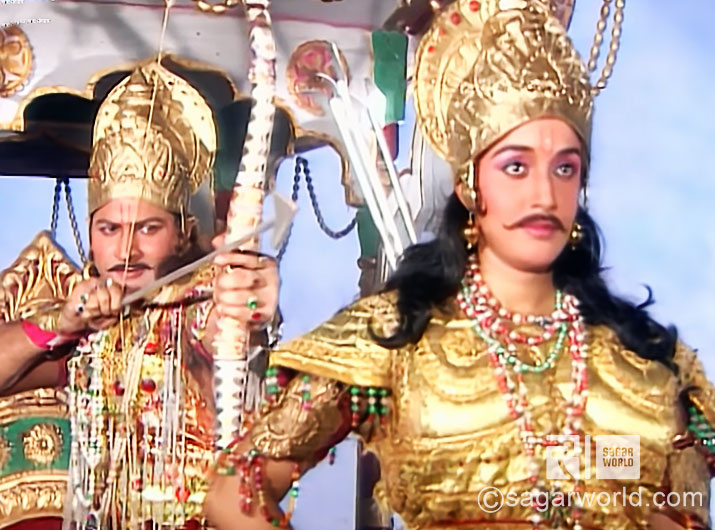 Pitamah while revealing the mystery of his death told Pandavas in Krishna's presence, "Tomorrow on the battlefield, if Arjun attacks me making Shikhandi his shield, then I will be defeated."
Next day, Bhishma and Arjun fought. Arjun made Shikhandi his shield and fought. Bhishma had taken an oath not to fight with a woman that is why he did not pick up weapons.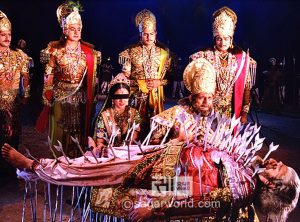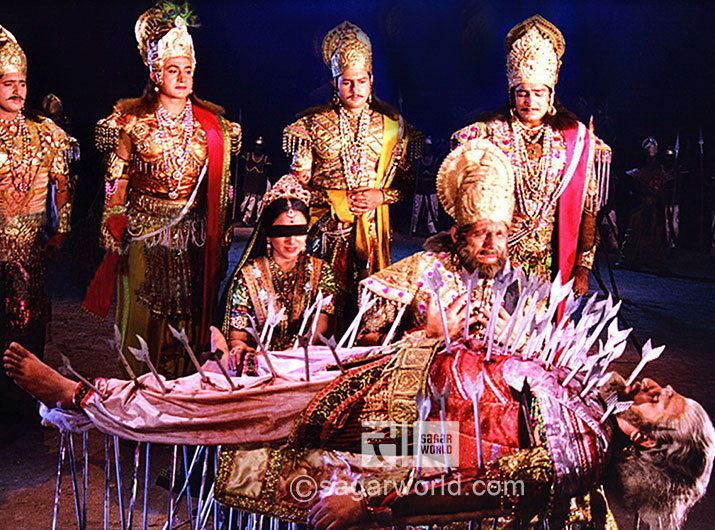 Arjun attacked Bhishma by shooting arrows at him, Bhishma was injured very badly and he fell down. Bhishma is lying on the bed of arrows. He expressed his desire to see Ganga once.
Arjun shot an arrow on the ground and Ganga appeared which gave Bhishma her holy  water to drink. Bhishma advised Duryodhan to stop the war but Duryodhan did not listen to him.
 Next day, in place of Bhishma Pitamah, Guru Dronacharya was appointed the chief of the army.