(Other names : Sravankumar, Sravana, Sravan, Shravana kumar)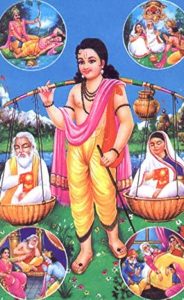 Shravana Kumar was a bright young ascetic. He was born of a Vaishnav (a sect that prays to Vishnu as the supreme God Head) father and a Shudra (the lowest caste, who mostly do manual labor) mother. Yet unmindful of his lineage, he was a brilliant mendicant. Both his parents were blind and Shravana was their sole solace and support. Shravana looked after every need of his parents and tended them with care.
Shravan had taken his parents on a pilgrimage all across the country. He carried them in two baskets with a rod resting on his shoulders. They had halted for some rest at an unknown place. It was a dark night when his parents asked for some water to drink. Shravana picked up the earthen water pot and went to fetch them some water from the Sarayu River nearby. By chance, at that very time, the young prince Dasharath came there to hunt deer.