(Other names : Kumbhkaran, Kumbhakarn, Kumbkarna, Kumbkaran, Kumbhakarna)
Sage Pulatasya descendent of Vaishrava son Kumbhkarna was the younger brother of Ravan. He was older than Vibheeshan. Virochana, the king of the Daityas, had his grand daughter Vatrajwala married to him.They had two sons Kumbh and Nikumbh. Kumbhkarna was as massive as a mountain and his diet matched his size. He drank hundreds of potfuls of liquor and chewed up thousands of animals  as his meal during the one day he was awake every six months. His nostrils were like two twin caverns.
The reason why he slept six months at a time was because he had accompanied Ravan to Gokarnkshetra to undertake penance in order to seek a boon from Lord Brahma. He wanted Indrasan (the throne of Indra, the king of Devas).Brahma realized that if this being succeeded in his penance,the whole of creation would be devoured in no time, and so went to his consort Saraswati, the goddess of speech and learning, and told her the story and requested her to "scramble" the demon's speech processes. 
When it came time for Brahma to grant Kumbhkarna his boon, the thought of Indra's throne was perhaps in his mind, but the words "I want to sleep six months and wake up for one day" came out of his mouth.
Brahma instantly said, "Tathastu! (So be it!)"Ravan had had a huge palace built for Kumbhkarna to sleep in for those six months. Kumbhakarna had also told by Narad that "When Ravan takes Sita away to Lanka, that will be the beginning of the end for the Rakshasa race."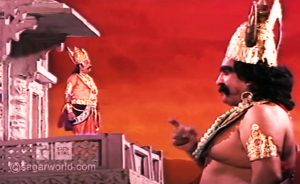 In their earlier lives, Kumbhkarna and Ravan had been the doorkeepers of Vaikunthdham (Vishnu's abode). Ravan's name had been Jay, and Kumbhkarna's was Vijay. They stood in the way of Sanaka, Brahma's mind-born son, when he was entering Vaikunth. 
It was as the outcome of the curse he gave them for that, that they were born as Rakshasa's (demons). In his earlier life, Kumbhkarna had been Hiranyakshap, who had met his end through Vishnu in his Varaha (boar form) avatar (incarnation). 
Ravan was born as Hiranyakashipu, the father of the child devotee Prahlad, and his end was at the hands of Vishnu's incarnation Narasimha (half-lion and half human). In this life, the two were born as wicked rakshasa's who were destined to be killed by Vishnu in the avatar (incarnation) of Ram.
Thousands of drums were rolled and beaten near his huge ears. Entire battalions of of elephants were marched over his gigantic supine form. Whole armies of soldiers poked him with sharp weapons. Finally their efforts paid off: Kumbhkarna woke up.
Ravan narrated to him all the events taking place: from the abduction of Sita to the battle being waged by Ram's army. Kumbhkarna severely criticized Ravan's action of kidnapping Sita. He told Ravan bluntly that "Sita is a veritable Goddess, and Ram an incarnation of Vishnu. According to the terms of Narad's prophecy, the end of our Rakshasa clan is now certain."
"However, he said, I will go and fight for you, and meet an auspicious death at Ram's hand." Kumbhkarna then drank up a thousand jugs of liquor and ate hundreds of animals as his last meal. Then he walked to the battlefield. Every step he took, shook the earth beneath. Vibheeshan then informed Shri Ram that Kumbhkarna was awake and approaching the battlefield.
He went forward and paid his respects to his elder brother, bowing before him. He told him how he had been insulted by Ravan, and had come to Shri Ram for refuge. Kumbhkarna praised Vibhishana for his decision, and then set to work upon the battlefield.
He caught hold of hundreds of vanaras (monkeys) and began to eat them. Many were crushed under his feet. Many of the monkeys Kumbhkarna gobbled up were able to escape out his huge ears and nose.There was mayhem in Ram's army, but then Ram picked up his bow and reassured his people. In a matter of moments, Ram had cut off Kumbhakarna's head and cut his torso in two with his arrows.