(Other names : Kaalnemi, Kalanemi)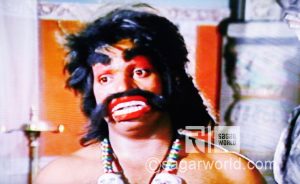 Kalnemi was a Rakshasni (demon) with miraculous powers. He was one of the main ministers in Ravan's court. His spies told Ravan that Hanuman was going to fetch the Sanjeevani herb to revive Lakshman who had been made unconscious by the Shakti (weapon) used by Meghnad.
Ravan ran to Kalnemi at once. He woke him up and told him to use any ruse or magic he had to stop Hanuman on his journey and kill him so that Lakshman would die untreated by dawn. At first Kalnemi tried to dissuade Ravan.