(Other names : Urmeela, Urmi)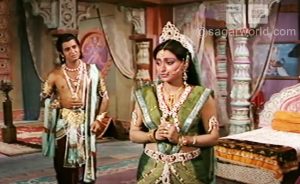 King of Ayodhya, had a son named Lakshman. Urmila wife of Lakshman does not receive much mention in the ancient Indian literature.
According to the Ramayan, she was the younger sister of Sita, daughter of King Janak. King Janak organized a Swayamvar (choice of her husband made by a princess in public) for Sita, and Ram won the nuptial garland from Sita. At this same function, Urmila was married to Lakshman, son of Dashrath and Sumitra.
During the fourteen years of Ram's exile, Lakshman went along with him and Urmila respected his servitude towards Ram and lived with fond memories of Lakshman for fourteen years while he was away in the forest. She converted her pain of fourteen years of separation into sympathy towards insects while she waited for her husband.
Modern literary authors in their creations depicting Urmila's separation anguish, have described Urmila as an expert in various arts, and a dutiful wife, and thus they praised her. She is probably one of the most unsung heroines in the great epic of the Ramayana, as she sacrificed a large portion of her life to an absent husband and lived a devout life during that time.