Goddess Shailputri
Shailaputri – the daughter of Himalayas – one of the Navadurga, nine manifestation of Durga
Shail means mountain and putri is daughter. Hence, Shailputri is the daughter of the mountain, or the king of mountains (Himalayas) – Himavat. Shailputri is another name of Goddess Parvati. In her previous birth, she was Sati – the daughter of King Daksha. Once, King Daksha insulted Shiva, the husband of Sati, due to which Sati burnt herself in the sacrificial fire. She reincarnated as Shailputri in her next birth as the daughter of Himavat. She is worshipped on the first day of Navratri – the nine divine nights dedicated to fierce Goddess Durga. Thus, she is an aspect of Goddess Durga. She is also the goddess of Muladhara or root chakra. When she awakens, she begins her journey upwards. Thus, the first day of Navratri is important for Yogis to awaken this goddess. She is depicted as holding a trident and a lotus, wearing a crescent moon on her head, and riding on bull, Nandi.
In the past, Maa Shailputri became the daughter of King Daksha. She was then named Sati. She married Lord Shiva. Once, in order to humiliate and vent out his anger, Daksha organized a yagna. He invited all of the Gods and Goddesses, and even the sages but did not invite Lord Shiva and Sati to the Yagna. Despite this, Sati desired to attend the Yagna. She was determined to go to the Yagna despite Lord Shiva's denial. Lord Shiva finally let her go.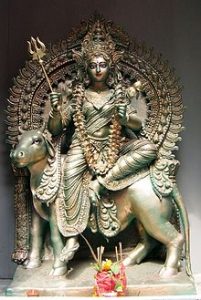 Sati reached the venue in which the Yagna was taking place. Sati's happiness was brief-lived as King Daksha insulted Lord Shiva in front of all of the visitors on the Yagna. Sati couldn't endure the insult of his husband and immolated herself. Sati took rebirth as the daughter of King Himavan and Queen Maina, Parvati. She again married Lord Shiva
Maa Shailputri guides the planet, Moon. Worshipping her with a pure heart is stated to thrust back all of the ill consequences of Moon.
Devi Shailputri is associated with the Muladhara Chakra.  Goddess Shailputri being the Muladhara Shakti teaches a man or woman the existence lessons. She does so with the aid of making an individual recognize the electricity of Muladhara Shakti via awakening his/her self . Muladhara Chakra is the Base Chakra wherein our complete awareness of the frame lies. Maa Shailputri is the goddess of Muladhara (Root Chakra). When awakened, She starts Her adventure upwards as Shakti towards Shiva who resides in Crown Chakra (Sahasrara Chakra).
Benefits of having Maa Shailputri Painting
Maa Shailputri wards off malefic of Planet Moon. She offers peace, harmony and overall happiness and keeps diseases and negative energy away. She also strengthens bond of love between a married couple and offers stability, success in career and business.
The Artist – Pieter Weltevrede
Pieter Weltevrede – is a Master "Sacred-Artist" based out of the Nederlands. After a many years of guidance, under his guru Late Harish Johari a successful author, a gifted painter and sculptor, a lifetime scholar, an inspiring teacher, a splendid cook, an ayurvedic massage miracle, etc., Pieter embarked on his own journey amalgamating ancient Indian knowledge with his own western sensibilities evolving an art form that appeals to todays international audience. He has been practising his art form from the last 40 years now.
His original paintings are in water colours on silk with a wash-technique that gives them a very three-dimensional feel. The complexity and detail in his works are a super-human endeavour as he continues to live a mundane life travelling between the Western World and India.
Here, the paintings are printed on coated matt paper by inkjet printer, using ultra chrome inks with an off-white paper mounting with golden border, and encased inside a fibre frame with acrylic sheet cover in the front.
Click Here to visit our Shop Site.