The determined Vikram once again got Betaal down from the tree and began walking. Betaal as usual started narrating a story to him. Haribhatt was a poor poet. Once, he recited a poem in the court of King Satyadev.
Princess Priyavanda, who was present in the court at the time, liked his poem very much and sent a cletter to Haribhatt. Haribhatt also wrote a reply to her.Priyavanda fell in  love with him and both started exchanging letters.
Haribhatt was waiting to get married to the Princess Priyavanda so that he would be the son-in-law of the king and enjoy all the luxuries of life as he was fed up with living in a small house and in poverty. He hid all the letters in a box guarded by a snake beneath a idol of Lord Ganesha.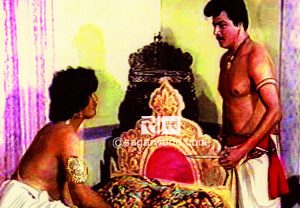 Meanwhile a thief named Kaliya had created havoc in the land by his thefts.
He was not getting caught by anyone and his reign of thievery went on increasing.
King Satyadev slammed his guards in the court as to why the thief was not being caught.  At that moment,  Haribhatt arrived and told King Satyadev that he wanted to talk to him in private.
At the same time, King Dharmadev of Vijaynagar, the biggest enemy of Satyadev, arrived also. King Satyadev was surprised at this visit.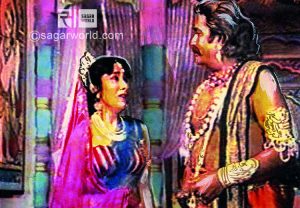 Dharmadev revealed that he had not come as an enemy or with his army; he had come alone to extend a hand of friendship to Satyadev, as he wanted to put an end to the longterm enmity between the two states, and as a token of friendship he proposed that his son, Prince Indrajeet marry King Satyadev's daughter, Princess Priyavanda.King Satyadev happily accepted the proposal. When Priyavanda came to know about it, she went and talked to her father king Satyadev. She told him that she loved someone else, but her father explained to her that he had taken that decision for the betterment of his subjects, and being a princess, even she was expected to sacrifice her love for the people of their state. So Priyavanda got ready to sacrifice her love.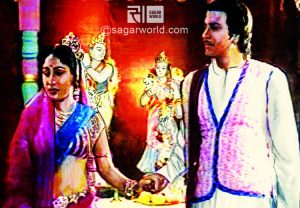 Priyavanda sent her maidservant to Haribhatt, asking him to come and meet her at night in the Krishna temple. Haribhatt agreed to come.
At night, when Priyavanda set out with her maidservant to the temple, Kaliya, the thief was sitting in that temple. As soon as he saw Priyavanda coming towards the temple, he hid behind the idol. Just then Haribhatt also came. Priyavanda explained to Haribhatt that her love for him was true, but as a princess she was obliged to marry someone else for the sake of the people of her state, and if she refused, then a war would be the result, which could cause terrible losses to her state.
At this, Haribhatt showed his true colors. He told her to give him all her ornaments the next night, or else he would show all the letters that she had written to him to her would be husband and father-in-law.
Thus he blackmailed her. Priyavanda was shocked to hear this from him. Meanwhile Kaliya was listening to their conversation hiding behind the idol.Later that night, Kaliya went to Haribhatt's house and woke him up, calling him a traitor and a man who tried to profit from love. He then asked him to tell him where the princess' letters  were hidden. Haribhatt told him they were underneath the Ganesha idol. Just as Kaliya went to take them, Haribhatt pulled out a sword from beneath his mattress and attacked Kaliya. Both of them fought fiercely.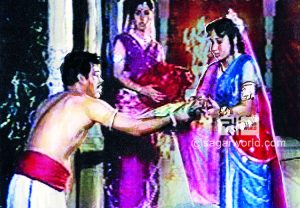 Meanwhile, Priyavanda collected her ornaments and reached the temple. She was waiting there for Haribhatt. Just then Kaliya came there and introduced himself.
Priyavanda got scared but he told her that he had not come there as a thief, but as a subject of the princess, and he gave her all those letters that she had written to Haribhatt. He also told her that he had killed Haribhatt. Just then he saw the king's men coming. He asked Priyavanda to hide. The king's men caught Kaliya and took him away. Priyavanda could not sleep that night.
She decided to go and tell her father the entire story, and explained to him how the one she loved was a traitor, and a thief whom she did not know had protected her dignity. King Satyadev told her that he would give his judgement in the court the next day.
Next morning, Kaliya was brought to the court. Saying this, Betaal stopped and asked Vikram as to whether king Satyadev should forgive Kaliya as he had fought for the dignity of the princess, or punish him for his many crimes. He forced King Vikramaditya to reply.
Vikram replied that as a father, King Satyadev should have forgave Kaliya as he was of a great help to his daughter, but before a father, he was a King, and Kaliya had committed many thefts, crimes and a murder, and for that death sentence was the proper punishment.
King Satyadev gave death sentence to Kaliya.Once again Betaal was very happy with Vikram's judgment, but since he had opened his mouth to speak, Betaal flew away.