After getting salvation by Krishna's hands, Barbarik's soul went to heaven.Here, in the Kurukshetra, Dhritrashtra and Kunti carried out the funeral rites of their sons and relatives.
Gandhari was very upset on loosing all her family members in the war of Kurukshetra and in her grief, she cursed Krishna that just as the Kuru family had been destroyed, same way one day Yadava family would also be destroyed one day.
Bhisma Pitamah consoled grieved Kunti and Dhritrashtra, Yudhishthir, Dhritrashtra and other Pandavas paid their homage to those who died in the war.
Kunti insisted that Yudhishthir should perform the rituals for Karna's soul.
She also revealed the mystery of Karna to Pandavas that he was their elder brother.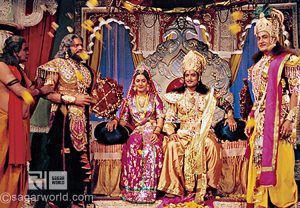 Yudhishthir became very sad when he came to know this. He felt bad that he killed his own elder brother.
He decided to leave the throne, Shri Krishna tried to explain and cherish him.
After this, Pandavas came to Hastinapur where they received a warm welcome.
Yudhishthir was coroneted and declared the king of Hastinapur. Yudhishthir and Draupadi took blessings of their elders including Krishna.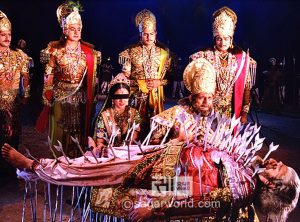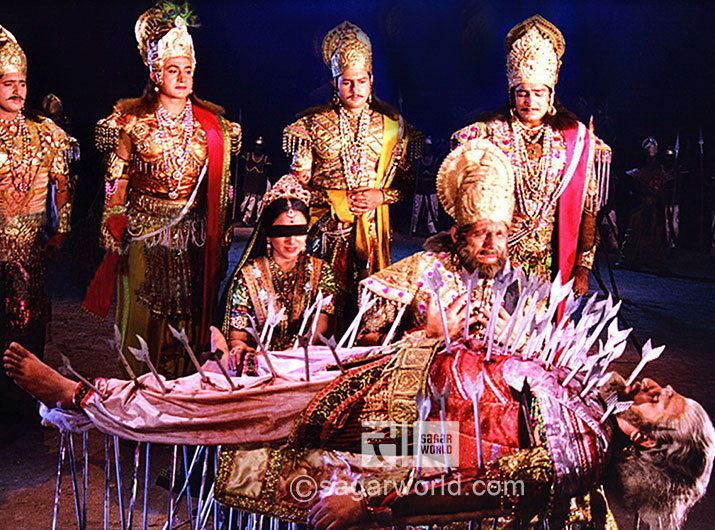 Pandavas were very happy on Yudhishthir becoming the king but Yudhishthir's mind was in turmoil.
Remembering the scene of lamentation of the wives of the warriors who died in the war of Mahabharata, Yudhishthir was very sad.
Shri Krishna understood what was going on in Yudhishthir's mind and along with all the Pandavas, came to Bhisma Pitamah. Bhisma advised them to walk on the path of truth, religion and justice.
Pandavas listened to Bhisma with great devotion and returned to Hastinapur. Bhisma remembered Ganga.
Maa Ganga manifested and told him to be in front of Krishna at the eleventh hour of his life and leave his life in front of him.
Bhisma Pitamah was taking his last breath. Pandavas, Dhritrashtra, Gandhari and Kunti were all next to him.
On Bhisma's request, Shri Krishna appeared in the Chaturbhuj form and awarded him salvation. Bhisma died. The deities in the heaven welcomed the soul of Bhisma and Devi Ganga.