King Drupad and Guru Dronacharya became friends right from the commencement of their education. They got education from the same teacher's ashram. When they grew up, Drupad became the king of Panchal region. Once, Dronacharya came to meet him.
King Drupad insulted him and said, "I am a king and you are a poor Brahmin, there can not be a friendship between a king and a poor Brahmin.' Guru Dronacharya felt very bad and insulted so he returned. After this, he became the teacher of Kauravas and Pandavas'.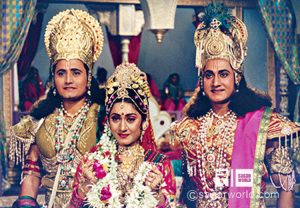 On completion of their education, he asked them to catch hold of Drupad and bring him in front of him as a form of Gurudakshina (fees paid to a spiritual preceptor). Arjun defeated Drupad and brought him in front of Dronacharya. Drona told Drupad, "Now I have the full authority over your state but I am returning you half the state, now we are of the same level and now we can be friends."
Drupad was ashamed and returned back. Then with a desire to have a son so powerful that he could defeat Dronacharya and a daughter who could be married to Arjun. Drupad got a Mahayagya (offering sacrifices to God) done. On completion of the yagya, Dhrustdhruman and Draupadi were born from the havan kund (fire pit).
As Draupadi grew up, Drupad organised a Swayamvar for her. Shri Krishna, Balram, Jarasandh, Duryodhan and Karna were present in the swayamvar. Pandavas also attended in disguise of Brahmins.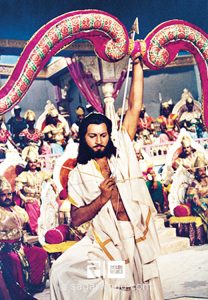 The condition of the swayamvar was that the one who will pierce the eye of the fish that was rotating above the water by just seeing its image in the water, without looking at it directly would get married to Draupadi. Great warriors like Jarasandh and Duryodhan could not do it.
Then Karna got up but Draupadi announced that she would not get married to a carpenter's son. Karna quietly returned and sat on his seat. Then Arjun was successful in piercing the eye of the rotating fish by just looking at its image. Draupadi and Arjun got married.
King Drupad was very happy when he came to know that the Brahmin was Arjun in disguise. Pandavas came to Hastinapur with Shri Krishna where they got a warm welcome.
Here, Duryodhan and Shakuni were very angry when they came to know that Pandavas were alive and decided to plan a conspiracy. Dhritrashtra divided his state between Kauravas and Pandavas and asked Pandavas to make Khandavavan as their capital. Kunti was not happy with this decision but was convinced when Krishna explained her.
With Krishna's order, the deities' artisan Vishwakarma built a grand city in Khandavavan. Lord Indra also helped him.
As Indra helped in building the new city, it was named Indraprasth. Shri Krishna, Pandavas and Kunti came to Indraprasth where Yudhishthir was crowned. Then Yudhishthir organized Surya yagya.
Shri Krishna gave the news about Magadh king's threat and that he had captured eighty six kings and by capturing fourteen more kings, he was going sacrifice them.
Jarasandh could not be killed with any weapon or by wrestling. Shri Krishna, Arjun and Bhima reached Magadh in the disguise of Brahmins. jarasandh and Bhima wrestled. During this, Bhima made two pieces of Jarasandh's body and threw it in two different directions and thus Jarasandh was killed.