Shri Krishna went with Kalyavan to a remote place to fight. Krishna started running; Kalyavan thought that Krishna was running to save his life so He also started running behind him. Shri Krishna reached the cave on the mountain where King Muchhkand was sleeping.
Krishna covered Muchhkand with his pitambar (yellow silk cloth) and hid himself in a cave near by. Just then, Kalyavan reached there and as he saw Muchhkand covered with pitambar, he thought him to be Krishna and woke him up with his leg.
Muchhkand was disturbed in his sleep and his eyes were set on Kalyavan who was standing in front of him. As soon as his eyes were set, Kalyavan was reduced to ashes. Then Krishna manifested into Chaturbhuj form in front of Muchhkand.
When Shri Krishna saw that Mathura was facing problems because of him, he decided to leave Mathura and called for Vishwakarma and ordered him to create a grand city in between the sea.Vishwakarma built a beautiful city; this was the city of Dwarka. Following Krishna's instruction, Yogmaya overnight transferred all the people of Mathura to Dwarka.
They felt as if they were living there since ages. After sending all the people of Mathura to Dwarka, Shri Krishna and Balram left for Dwarka by air, then Jarasandh's army followed them.Both of them hid themselves on the Gomantak Mountain. Jarasandh encircled the mountain and put it on fire. Both the brothers jumped into the sea and went to Dwarka.
Jarasandh was smiling thinking that Krishna and Balram were burnt in the fire. Krishna and Balram reached Dwarka. As they reached the grand city, the deities were happy and praised them. Mathura was then ruled by Jarasandh.Dwarkadhish Shri Krishna sent a friendly message to Hastinapur through Akroor.
In Hastinapur, Bhishma Pitamah and Vidur were very happy to know that Krishna was alive. Jarasandh was very angry and also scared on getting this news and decided to attack Dwarka.
Then few of his king friends explained to him that he should not be worried because of Krishna who ran away so far like a coward. Jarasandh was convinced and kept quiet.
There in the court of Hastinapur, a political discussion and confusion over whom to crown the prince was going on. Dhritrashtra understood that it was not the right time to make any announcement.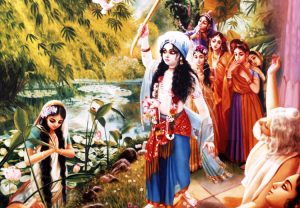 He delayed it on the pretext of taking public opinion. At the end, on Bhishma pitamah's instigation and also on public opinion, Yudhishthir was declared the crowning prince.
In Dwarka, Naradji came and gave the news to Krishna and Balram that with the blessings of Brahmaji the marriage of Balram was fixed with King Kukudami's daughter Revati. Shri Krishna was very happy to hear this.
Revati's father King Kukudami reached Dwarka along with Revati. Balram and Revati got married. The deities were pleased and admired them. A festival was celebrated in Dwarka.