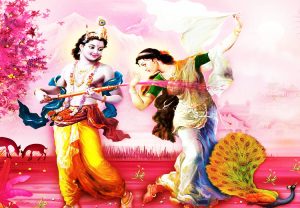 On the full moon day, Gokul was celebrating the festival of Holi. On Nand and Yashoda's invitation, even Radha came for the festival with her parents. People of Gokul were enamoured by the acts of teenage Krishna. Krishna played the flute and spread the message of love all over the world. Krishna told Radha that God resided where there love existed and that was the spiritual truth. In this world, every couple in love is Radha and Krishna.
Just then Akroor came and gave the message of Vasudev and Devaki to Sage Garg that they didn't want both the brothers to be separated, so a secret arrangement had to be made in Gokul itself for educating and consecration of Krishna and Balram so that Kans wouldn't be aware about it. Sage Garg agreed on it.
Radha and other gopis visited the temple of Goddess Gauri, prayed and asked for Krishna to be their husband as a boon. Devi Gauri said Tathashtu (be it so).
Krishna assured Radha for his love by saying that He saw Radha's face in all the Gopi's, which assured Radha. Thedivine form of this love was seen on the full moon day during their Raasleela. While dancing in the raas, each and every gopi could see Krishna dancing with them. This was the act of divine form of love. Here, the individual soul met the supreme spirit.
Poet Surdas once came to Maharishi Garg's ashram and requested grant him his vision just once so that he could see Krishna with his own eyes. Maharshi told him, "So what if you are blind, you always have seen Krishna through your heart.
Why do you want to have a look of the physical form and fall into illusion? So it is for your betterment that you see Him with your heart. If you want salvation in the refuge of Krishna, then this wish of your will be fulfilled in Kalyug." Surdas was satisfied and then left.
To know whether Krishna was the son of Vasudev and Devaki or notKans on the advice of his friend Banasur and Pandit Sattyak, planned to invite Krishna for Dhanuryagya (a sacrifice in which a bow is worshipped and the art of archery displayed).
His plan was to kill Krishna if he came to Mathura. But would Krishna come?  He called for Akroor to go and invite Krishna.
He also tempted him and said, "If you get the work done according to my orders then I will make you the king of one of the states of Mathura region." Patriotic Akroor said, "My self respect is only with king Shursen and if you really want to make a king then coronate Vasudev because from the Yadava family, he is the one who deserves being a king." Kans got angry at this and Akroor rejected Kans's proposal and left for the court.
Kans went to the prison and frightened Vasudev and Devaki,"Let me know the reality of Krishna and you invite Him for the Dhanuryagya to be held in Mathura." Vasudev told Kans that Devaki never gave birth to the eighth child, to which Kans replied,
"Krishna is only  the eighth child of Devaki. Naradji has told me this; you had promised me that you will hand over all the children of Devaki to me so you must invite Krishna to come to Mathura. You lied to me that Krishna is not Devaki's son, you have cheated me, you are a culprit and so I will have to kill you."
Devaki pleaded Kans for mercy. Kans told Devaki that if she wanted to save her husband then she had to call Krishna to Mathura. Devaki asked Akroor to tell Krishna that His mother had called Him. Akroor told Devaki and Vasudev that it was Kans's trick and it would not do well because Kans wanted to kill Krishna.
But Devaki was helpless and so she did not listen to Akroorji. In the end, Akroor being helpless agreed to go to Gokul and at the same time he thought of a plan to save Krishna.