Akroor informed Nandrai that Krishna was not their son but Vasudev's and Devaki's. Nandrai got angry at that and asked him to leave Gokul immediately. Yashoda did not understand anything and asked Akroor what the matter was. Akroor later revealed that in order to save her husband from the atrocities of Kans, Devaki had sent him to Gokul to invite Krishna to Mathura. He had gone to Gokul as she wished so.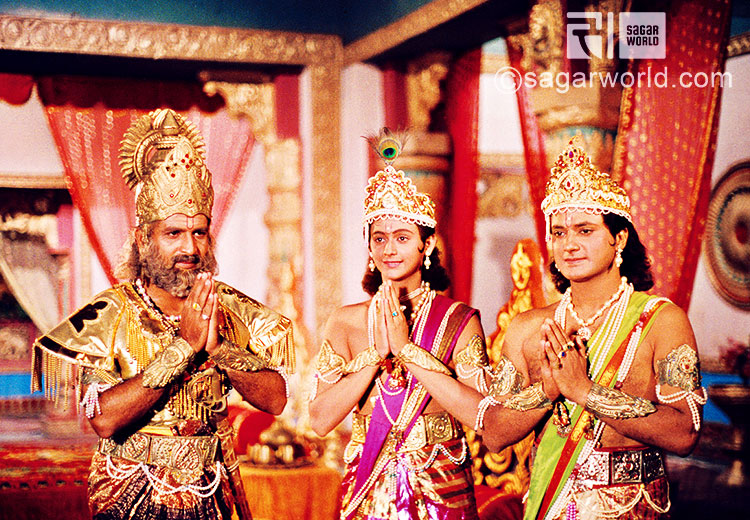 Akroor also said, "I have informed Vasudev and Devaki that Krishna is their son and to prepare for revolt against Kans, sending Balram alone for learning archery and other art was not advisable. They didn't listen to me and by telling Kans that Krishna is their son, it ruined the whole plan."Nand and Yashoda were very sad as they realized that Krishna was not their son. With a heavy heart, they were ready to send Krishna to Mathura.
Yashoda was very upset and sad on sending Krishna to Mathura. Akroor made a plan to send Balram to a safe secretive place and take only Krishna to Mathura. Balram was not ready for this. He did not want to leave Krishna alone. On his persistence, Akroor revealed that Krishna was Vasudev's and Devaki's son and Krishna was not his brother.
Balram decided that being an elder brother, it was his duty to protect his younger brother and so he would never allow Krishna to go alone to Mathura. Krishna also listened to everything and finally it was decided that both the brothers would go to Mathura. Yashoda was very depressed and lamented. Krishna tried to explain her, "Don't feel bad.
You are only my mother, anywhere I live on this earth I will always be your son." Meanwhile, even the people of Gokul came to know that Krishna was Vasudev's and Devaki's son.
Krishna took leave from Radha in her dreams. There was a divine loving conversation between the two of them. Krishna explained, "Please don't feel bad. Our relation is of love. Love is eternal and it does not reduce on being separated but love is sometime helpless due to which sometimes we have to be separated." The dream got over with this divine message.
Shri Krishna took Radha's leave. Radha was very sad on just thinking of being separated from Krishna.
In the end, on Krishna's explanation she took a promise from Him that before leaving this world He would give her a chance to take the dust from His feet once. Krishna also made her promise that she would not shed tears.
Shri Krishna and Balram took leave from the people of Gokul. Gopi's stopped Him on the way and told Him that He was breaking the relation of love and going.
Krishna explained, "By stopping me, you are stopping me from going on to the path of my duty. To distract one from his duty is not love.
Love does not obstruct dutiful path. Please let me go." Gopi's moved from His way with a heavy heart. While going to Mathura, Akroor had arranged for an army for the security of Krishna and Balram.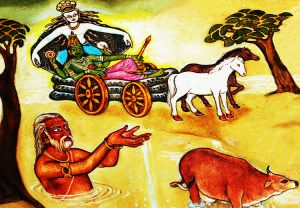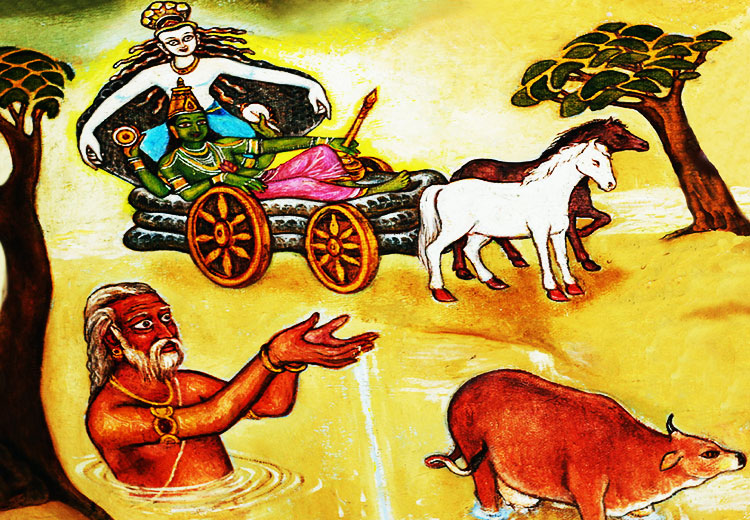 On seeing the arrangement made by him, Krishna understood that he was very much worried for their security. On their way, Akroor went in a river for a bath. To reduce his worries, Krishna appeared in His chaturbhuj form. Akroor was freed from worries.
Shri Krishna praised Akroor's unselfish love and blessed him with a boon that the affection for God would forever remain in his mind and he would always remain devoted to God.
Shri Krishna and Balram reached Mathura. When Kans got the news of their arrival, he became very happy thinking that now he would get a chance to kill Krishna, his plan would be successful now that Krishna had come to Mathura.