(Other names: Kalyavan)
Yadava Vansh's King Kalyavan was the son of Gargya. Gargya was the son of Saint Garg. His mother's name was Gopali.
Once in the Yadava's assembly, Gargya was humiliated by people calling him impotent because he used to observe celibacy.
He was very sad with this humiliation and so he went to the jungle and observed penance for twelve years eating iron powder.
Kaalyavan was born because of this penance only. Kaalyavan had become the biggest enemy of Yadavas because of the ill treatment that his father received from them.
In his childhood, a childless King Yavan had nurtured him that is why he got the name Kaalyavan.
 Kaalyavan was very valiant. He joined hands with Jarasandh and attacked the Yadavas.
Due to his attacks only Shri Krishna shifted the capital of Yadavas from Mathura to Dwarka.
Kaalyavan was following Shri Krishna after gaining victory over Mathura. Shri Krishna thrust into the caves of Girnar.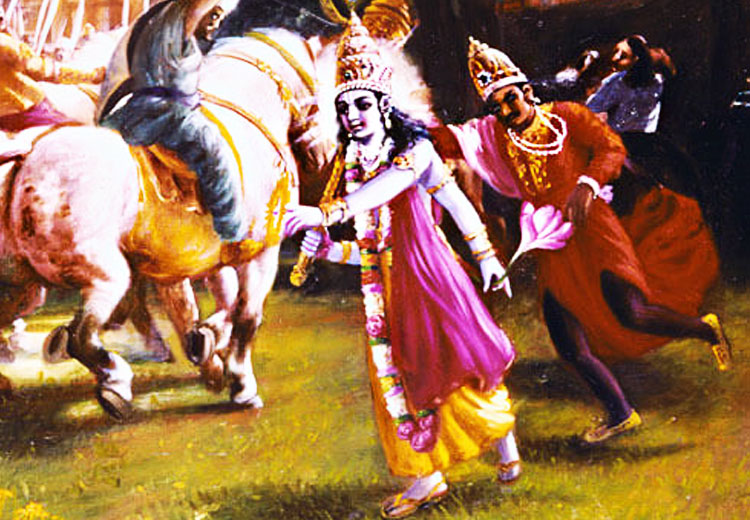 The valiant King Muchhkand of Isvaku Vansh was sleeping in the cave.Muchhkand had fought from the side of the Devtas (deities) in the devasur battle that is why the Devtas (deities) had given him a boon that whoever disturbs his sleep, the moment he will set his eyes on that person, he will be reduced to ashes.
When Shri Krishna entered the caves, he covered Muchhkand with his Pitambar (yellow cloth) and hid himself.
Just after him, Kaalyavan entered the cave and he mistook the sleeping Muchhkand to be Shri Krishna and kicked him.
Muchhkand opened his eyes and the moment he set his eyes on Kaalyavan, he was reduced to ashes.
Then Shri Krishna manifested and blessed Muchhkand to acquire a place in heaven.
It is believed that after Muchhkand's ascend to his heavenly abode and the incident of Kaalyavan reducing to ashes gave an indication that Kalyug (there are four Yugas according to Hindu mythology- Satyuga, Treta Yuga, Dwapar Yuga and Kali Yuga) is to commence very soon