(Other names: Kalia)
In one of the corners of Vrindavan, Yamuna was contained in a small lake, where Kaliya the snake was residing. Because of the fire of his poison, the water was always boiling, that is why people used to call that place as "Kaliyadah". Nand had prohibited people from going there and drink water from there.
The proper home of Kaliya was Ramanaka Dwipa, but he had been driven away from there by fear of Garuda, the foe of all serpents.
Garuda had been cursed by a yogi dwelling at Vrindavan so that he could not come to Vrindavan without meeting his death. Therefore Kaliya chose Vrindavan as his residence, knowing it was the only place where Garuda could not come.
Once, during a summer afternoon, all the cowherds were very thirsty, but there was no water around. The cowherds were bewildered with thirst so the cows and cowherds drank water from there.
They became unconscious and fell down on the bank. Krishna searched for them and he saw all of them lying unconscious. Krishna was the almighty, so when he saw them with merciful eyes, all of them came to senses slowly and gradually.
Actually there was nectar flowing from Krishna's sympathetic sight – so as soon as his eyes were set on them they got the nectar and came to life.
When they saw Krishna, they understood that it is because of Krishna only that they were alive. There, Krishna made a firm decision to kill Kaliya.
One day, they were playing with ball. While playing; Krishna threw the ball in the Kaliadah. It was Shridama's ball. He asked for his ball. So Krishna climbed the step and jumped in to Kaliadah. Kaliya's wives were surprised how Krishna had ever reached so far alive; they tried to explain to Krishna to leave before Kaliya saw him.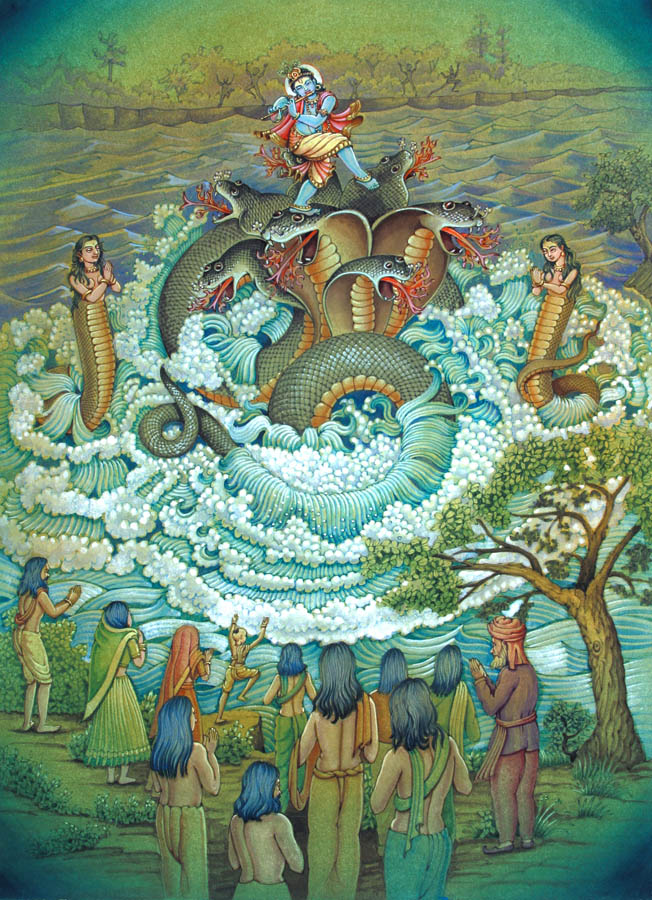 Ultimately Kaliya saw him and was very angry.  He ran towards Krishna and entangled him. The news spread in the town that –Krishna has jumped in the Kaliyadah. All the cowherds, milkmaids everyone came running on the bank of Kaliyadah.Yashoda was very scared.
Nandbaba tried to console her. Here, Shri Krishna blew up his body and broke the entanglement of Kaliya. When Kaliya started spitting fire, then Krishna pressed his hood and climbed on his head and started dancing.
When the people of Gokul saw Krishna dancing on Kaliya's hood on the surface of the water, they were shocked. The entire heaven watched from above. Krishna's this from is called "Nataraj". Kaliya's wives apologised.
Kaliya said, "Lord, I am stupid from birth-anger, desire and ignorance are always with me, they are not leaving me. Please punish me the best way you feel." Krishna told him to leave that place and go away. Kaliya told Krishna about his fear of the Garuda.
Then Krishna summoned Garuda and told him not to trouble Kaliya and told Kaliya to reside in "Ramanaka Dwipa". Kaliya, recognizing the greatness of Krishna, surrendered, promising he would not harass anybody and went away to "Ramanaka Dwipa".People at Vrindavan were in sheer shock. Then Krishna came to the bank of the river Yamuna.