(Other names: Jarasandha, Jaraasandh)
Kans had two wives namely Asti and Prapti. The father of these queens was King of Magadh Jarasandh. When Kans was executed by Krishna, Jarasandh was very angry.
He was dazzled and vowed not to keep any Yaduvanshi (member of Yadava family) alive on this earth and started preparing for the war.
He attacked Mathura with twenty three armies loaded with weapons and encircled it.
Krishna saw this and started thinking." This king of Magadh is a medium of reducing the burden on earth. I will defeat him on and off. If he is alive, he will get a new army of demons every time.
This way I can catch hold of the demons easily and when the demons are killed, the good people will be protected and the burden of sins on the earth will be reduced."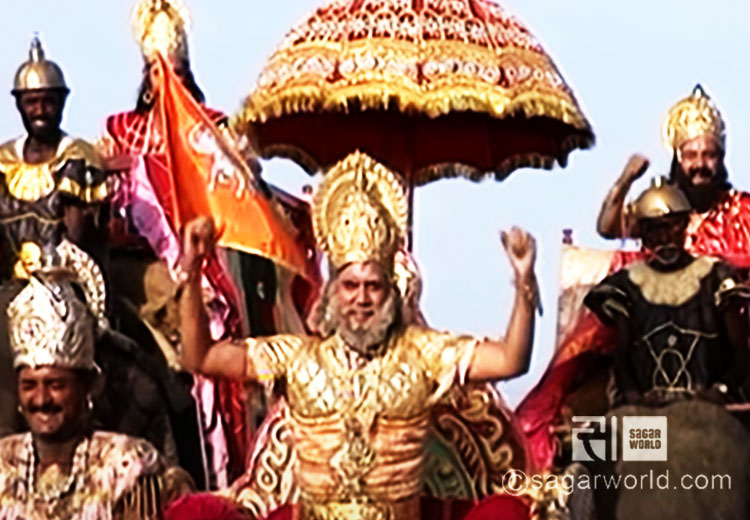 It is said that a giantess named Jara had joined a baby born into two different parts and created Jarasandh.
He had got a boon that only that person will be able to kill him who can make two pieces of his body and throw them in two opposite directions.
Krishna knew this, that is why he defeated him on and off but did not kill him.
Jarasandh was a warrior with great valour but was very egoistic. Due to his ego, he used to get an army of demons every now and then and Krishna and Balram used to kill them and leave only Jarasandh alive.
This way he was defeated seventeen times and each time returned to Magadh. During this time Krishna built the city of Dwarka.Jarasandh then attacked the eighteenth time.
Lord Krishna thought that if he will fight from Mathura then the people of Mathura will have a problem.
So as soon as Jarasandh came to attack, Krishna and Balram ran away in front of him. Jarasandh thought the best way was to follow them.
Krishna and Balram reached Pravarsan Mountain and hid there. Jarasandh set the mountain on fire from all four sides so that both of them will get burnt and die.
He did not know about Krishna's Super-human power. Krishna and Balram both reached the city of Dwarka.
After few years when Yudhishthir organised the Raj Surya yagya (sacrifice), then Yudhishthir said that all the kings will actively take part in the yagya but Magadh King Jarasandh will not accept to be a part of it. Krishna, Bhima and Arjun reached Magadh. Disguised as Brahmin they entered Jarasandh's palace by window.
They wanted to meet him. Jarasandh was busy with his daily worship of Lord Shiva and sent the word that he would see them after his worship around mid-night and asked the attendant to offer all hospitalities to the Brahmins.
When Jarasandh came he found that Krishna, Bhim and Arjun had not availed of his hospitality and they had entered the palace through a window. He was intrigued and wanted to know the reason for such Non-Brahmin like conduct Krishna told him about their mission.
When Jarasandh got a respite from his laughing spell he said, "you have run away from the battle-field eighteen times, how can I fight you? Arjun is a mere child. Bhim looks to be well built youth.
He is fit to fight with me." A great duel between Bhima and Jarasandh lasting for over fourteen days took place.
Bhim had heard that Jarasandh never losses in fight but that day he actually saw that. Once, he broke Jarasandh's leg and threw it off but because of the boon, it joined again then Krishna picked up a straw of grass, dissected it in two parts and threw them in opposite directions. Bhima understood and did the same with Jarasandh and he died.