Sudama was praising Shri Krishna and just then Shri Krishna appeared in the form of Chaturbhuj. Murli Manohar and Sudama both reached Dwarka. Sudama was shocked to see the luxuries in Dwarka. Murli Manohar saluted Sudama and went off. Sudama reached the palace of Krishna after inquiring. He introduced himself as Krishna's friend. People laughed at him seeing his torn clothes and poor condition.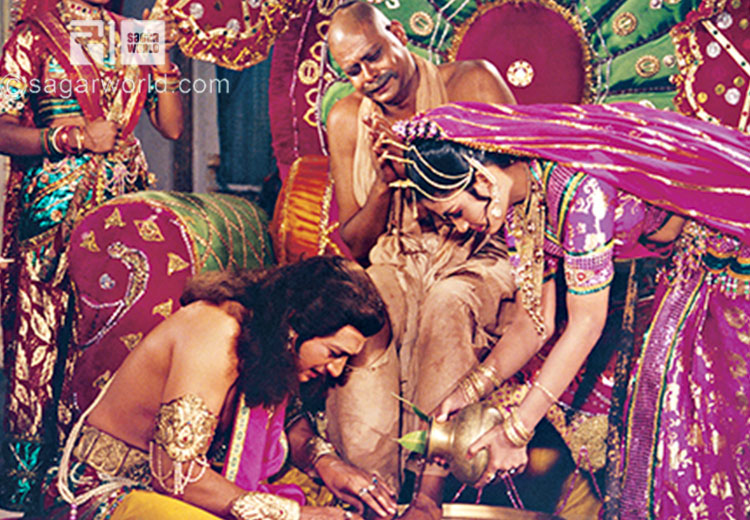 On reaching the palace, Sudama sent a message with the guard that Krishna's friend had come. On getting the message, Shri Krishna himself came out and welcomed him inside with great respect.
Both the friends met and seeing their love Krishna's queens and the deities were delighted. Sudama got a very warm welcome in Krishna's palace. Shri Krishna himself washed his legs with water. The queens made him sit with great persistence and respect.
Sudama was very shy. Just then Krishna saw Sudama hiding the packet of rice under the pillow, he went ahead and asked for the packet and said, "There is definitely some very tasty food in this packet and bhabhi (Sudama's wife) has sent it for me and you are hiding it." Shri Krishna took the packet of rice and ate it with great love.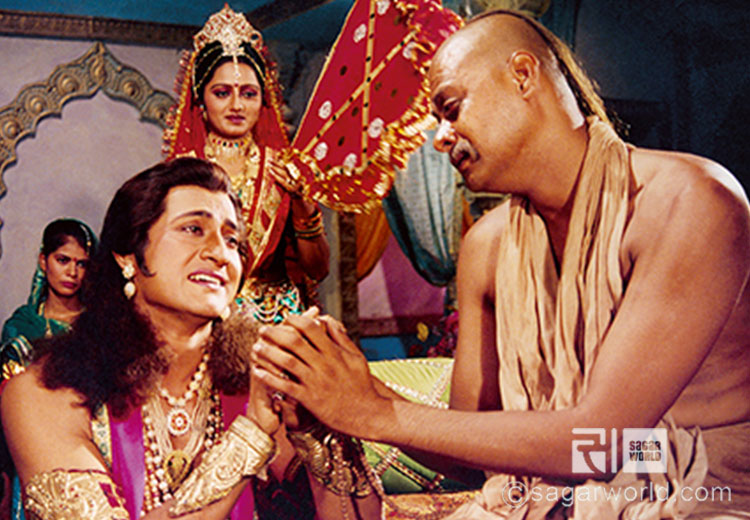 To remove Sudama's poverty, Krishna ordered Vishwakarma to go to Sudama's town Vrindapuri and make a palace in place of Sudama's hut. After reaching Vrindapuri, when Vishwakarma informed Sudama's wife about it, she said that by making a palace for them would not remove the pain and poverty of the whole town. The whole town was her family. Then Vishwakarma changed the whole town and made a palace for every family.
The people of Vrindapuri were very happy. On seeing the renovation of the whole town, the king got very angry. His minister told him that when he was drunk, that time Vishwakarma did the miracle.
All of it was done for Krishna's friend Sudama. On hearing about the grandeur of Sudama, the king realised his mistake and decided to leave liquor. Here Rukmani gave a boon to Sudama's wife to remain young forever.  
Sudama took leave of Shri Krishna and reached his town Vrindapuri. There, his wife, friend Chakradhar and the people of his town welcomed him. The king of Vrindapuri also welcomed him. Sudama was very happy with his friend's favour and lovingly with great devotion praised Shri Krishna.