(Other names: Drowpadi, Yajnaseni, Parshati, Panchali)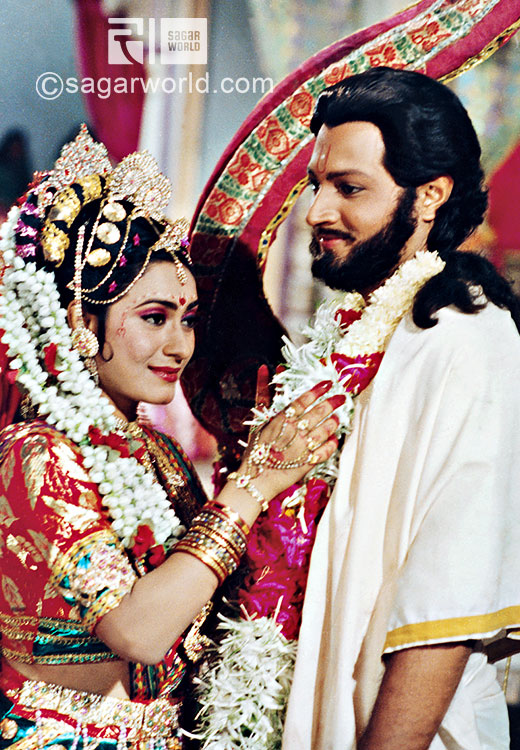 Draupadi was the daughter of Drupad, King of Panchal and wife of the five Pandavas. Draupadi and her brother Dhristadyumna emerged together from a sacrificial fire that the king had lit to gain a means of revenge on Drona, to whom he had lost half his kingdom.
It is believed that Goddess Kali had given a part of her powers to her, for the destruction of the Kauravas.
Draupadi was a damsel of dark complexion but of great beauty, "As radiant and graceful as if she had descended from the city of the gods." Draupadi's other name was Krishnaa (dark skinned).
Draupadi's real name was Krishna, She was called Draupadi and Yajnaseni, from her father. Parshati, from her grandfather Prushata; Panchali, from her country; Sairindhri, `the maid-servant' of the queen of Viraat; Panchali, `having five husbands;' and Nitayauvani, `the ever young.'
Drupad had organised a Swayamvar (the choice of her husband made by a princess in public) for her marriage.
At the Swayamvar, by piercing the eye of a fish rotating on a wheel, Arjun got married to Draupadi.
Mother Kunti, without seeing what Arjun had got, asked him to share whatever he had got amongst all the five brothers.
So Draupadi got married to all five brothers. Few scholars are of an opinion that the reason for this marriage was due to then famous custom of polyandry.
Draupadi may be the only celebrated bride among all the classics of the world to have multiple husbands simultaneously.
Due to the internal rivalry, to humiliate Yudhishthir, Duryodhan, the eldest of Kauravas, instigated him to gamble.
Due to the fraud played by Shakuni (Duryodhan's uncle), Yudhishthir lost all his wealth and along with his brothers, even lost Draupadi in the gamble game. 
Kauravas insulted Draupadi by calling her a maid servant.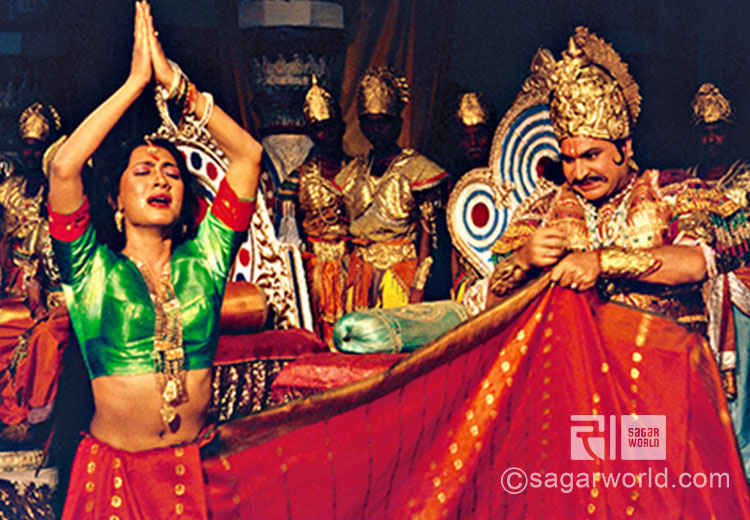 Duryodhan's younger brother Dushasan caught hold of her hair and dragged her to the royal assembly and tried to remove her clothes.
At that very moment, Bhima vowed to kill Dushasan and Duryodhan.
Draupadi had a marvelous blend of intensity that suits Kshatriyas and forgiveness that fits devotees. She was very intelligent and knowledgeable.
When Dushasan was dragging her by the hair to the court, she ridiculed him to show his prowess against her husbands.
She also boldly reprimanded the elders present in the court and appealed to them to do justice.
She also asked if Yudhishtir had a right to put his wife at stake when he had already lost himself. But no courtier could answer those questions.
At last, Duryodhan's brother Vikarna supported Draupadi but Karna derided him and questioned his support for her. Thus, despite being humiliated, Draupadi won morally.
Draupadi never forgot that insult, when she heard about a possible pact between the Kauravas and Pandavas; she reminded her husbands of the humiliation and thus encouraged them to fight the Mahabharata war.
She also vowed to tie her hair only after she applied Dushasan's blood in her hair. She left her hair open till Bhima killed Dushasan in the war and brought his blood for Draupadi.
During the stay of the Pandavas in the forest, Jaydrath son-in-law of Dhritrashtra and King Viraat's brother in law Kichak tried to molest Draupadi but did not succeed.
Bhima killed Kichak then and there only and Jaydrath was killed by Arjun during the war of Mahabharata.
Draupadi had five sons from the five Pandavas, Prativindya from Yudhishthir, Shrutsen from Bhima, Shrutkirti from Arjun, Shrutanik from Nakul and Shrutkarma from Sahadev.
During the war of Mahabharata, when injured Duryodhan asked Ashwathama to kill the Pandavas and bring their heads, he attacked the camp of the Pandavas at night and brought the heads of their five sons. Pandavas were not present in the camp at that time.
So there was no one to protest Ashwathama. Duryodhan was very sad on seeing the heads of Pandavas' sons as he thought his enmity was with Pandavas and not with their young sons.
Due to this sinful act, Ashwathama had to bear very big insults and curse.
A great saga pertaining to the legend of Rakhi is the evergreen story of Lord Krishna and Draupadi. Both of them hold a very special position in the Hindu household owing to Mahabharata. It is generally assumed that the original ritual of Rakhi began with Draupadi and Krishna during the epic war.
According to the legend, Krishna loved Draupadi so much, that he called her 'Sakhi'. Draupadi too had a lot of faith in Krishna. She prayed to him with utmost devotion. During the great battle of Mahabharata, Lord Krishna threw a celestial weapon at Shishupal, in order to punish him for numerous sins.
During the act of hurling the Sudarshan Charka from his index finger, Krishna hurt himself. On seeing blood drops, Draupadi immediately rushed to protect her Lord. She tore off a piece from her sari and wrapped it around his finger, stopping the bleeding. Krishna was touched by her gesture of devotion and pure love.
He asked her what she would like in return of this favour. Draupadi, like a true sister, just asked for the Lord's holy presence in her life forever. From that moment onwards, Lord Krishna has been with Draupadi like a shadow protecting her from every small and big trouble.
When the Kauravas tried to dishonor Draupadi through "Cheer Haran" (removing her sari) in a hall of people, she prayed to Krishna continuously. The lord took care of her honour and punished the sinners during the battle of Mahabharata.
At the end of Mahabharata, Draupadi went to Himalayas with her five husbands (Pandavas) and is believed that she died first after melting in the ice. 
Draupadi, the heroic princess of the Hindu epic Mahabharata is the epitome of feminism and femininity. Throughout history Draupadi has remained an enigmatic woman of substance. Fragile, with a granite will, compassionate yetenough to reduce her enemies to ashes.