(Other names: Bhaumasur, Narkasur, Bhoumasoor)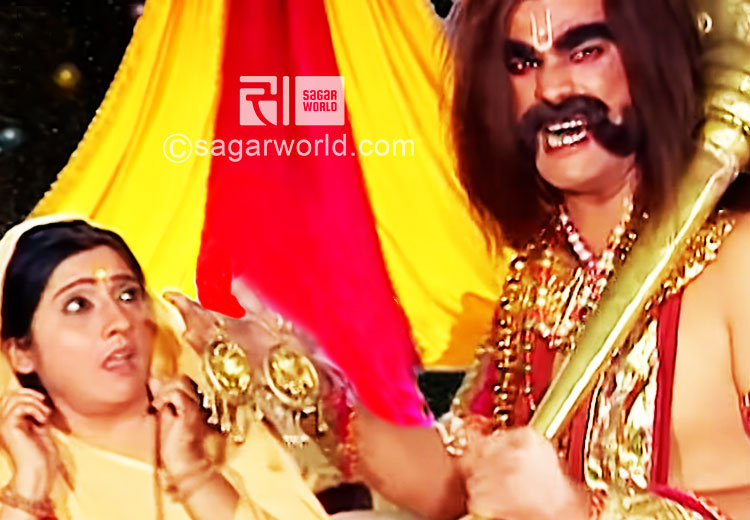 Bhoumasur with his great valour and illusive weapons snatched the canopy of Varun, Aditi's earrings and the Mani Parvat (mountain), home of the deities. Lord Indra was frightened and he came to Dwarka.
He told Krishna about the terrors of Bhoumasur. Krishna consoled Indra, bid him farewell and along with Satyabhama rode on an eagle and reached Bhoumasur's town Pragjyotishpur.
It was difficult to reach Bhoumasur. He was living in such a fort which was surrounded by a valley filled with water on all the four sides.
There was a bed of fire and electric current on top of it. The demon named Moor with ten thousand demons protected it.
When Krishna saw this, he broke the mountain that stood on one side of the fort with his mace and destroyed the bed of fire and current. He assassinated the guards with his Panchjanya (Conch shell).
With the sound of Panchjanya, the demon Moor woke up. He had five heads. He had a trident which he swirled around and hit the eagle with and started screaming with his five mouths due to which earth, sky and the under (nether) world shook up.
Krishna chopped Moor's hand, broke the trident and cut off his heads.
After Moor died, the army chief Pidh attacked Krishna. Lord Krishna's strength was infinite, so he killed Pidh and also his army men.
Then Bhoumasur came out to fight with Krishna. He released Shataghni (a kind of ancient missile) on to Shri Krishna.
But Shri Krishna  deactivated Shataghni and disposed Bhoumasur's body parts.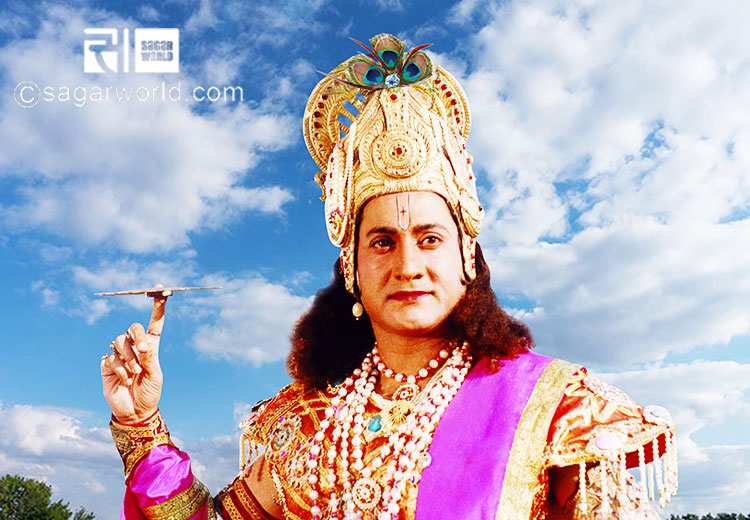 Krishna destroyed all the weapons that Bhoumasur released. When all his weapons failed, Bhoumasur picked up the trident but Krishna chopped his neck with Chakra.
His neck fell on the seat on the back of the elephant because he was riding on the elephant.
Bhoumasur had kidnapped sixteen thousand princesses from their fathers and husbands and put them in prison. Krishna released them all.
The Princesses asked Krishna where they will go, as their husbands or fathers will not accept them any more.
Krishna gifted them beautiful clothes and sent them to Dwarka.  That is why it is said that Krishna had 16008 queens.
But God is the Lord of this Universe without customary traditions like marriage. He takes care of everyone in this world and protects them.  The love here is divine and physical attraction is not at all given any importance.