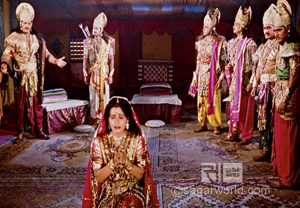 Arjun was very upset on being defeated by Karna with the use of Vaishnavastra. Shri Krishna consoled him.
Duryodhan was pleased with Karna's gallantry, but he was unhappy that Karna lost a chance to kill Arjun.
Here Draupadi insinuates Pandavas to kill Karna reminding them of the insult she had gone through in the Kauravas court and challenged their courage. Shri Krishna pacified Draupadi.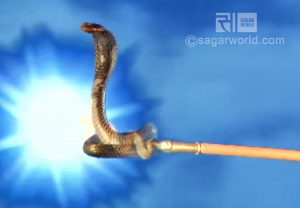 Next day, Yudhishthir came to face Karna in the battle field.
Karna defeated him also and just like Nakul, Sahadev and Bhima gave a lifeline to Yudhishthir also.
Next day a fierce battle of celestial weapons was fought between Karna and Arjun.
Karna released such a celestial weapon onto Arjun on which a snake named Avasen appeared.
That snake wanted to take revenge from Arjun. He attacked Arjun but Krishna pressed the chariot with his toe and saved Arjun.
Arjun killed the snake in the air itself. The fight between Karna and Arjun was going on.
Suddenly the wheel of Karna's chariot got stuck in the land.
He got down from the chariot and tried to remove the wheel, just then Arjun killed him.
Duryodhan and all the Kauravas were very sad on Karna's death. Here, Pandavas were celebrating Karna's death. Draupadi praised Arjun's valour and reminded Bhima of his oath to kill Dushasan.
Kunti was very upset due to Karna's death and she mourned. Shri Krishna told her the story of Karna's cursed life.
Duryodhan was shocked on the death of his dear friend. Even Dhritrashtra and Gandhari were very sad.
Duryodhan met Bhisma Pitamah who was lying on the arrow bed. Bhisma once again tried to make him understand to stop the war, but Duryodhan did not listen to him.Next day, king of Magadha, Shalya was appointed the chief of Kaurava's army. On this day, Shakuni was killed by Nakul. Yudhishthir   killed the Magadha king Shalya.