(Other names: Akroorji)
The devotees of Krishna take Akroor's name with great faith. Akroor was born in the Yaduvansh (Yadava family). He was Vasudev's brother.
Akroor was an employee at Kans's assembly. Many employees of Kans had run away but Akroor remained in the assembly.
When Kans tried many ways to kill Krishna and failed every time, he planned to organise a Dhanush Yagya (sacrifice).
By the excuse of this Yagya, Kans sent Akroor to invite Krishna and Balram.
Since Akroor was Vasudev's brother, he knew Nandji so when Kans asked him to go to Gokul and bring Krishna and Balram, he was very happy.
Even Akroor wanted to see Krishna. Akroor could not even imagine that even after trying many ways it was difficult to get a glimpse of Krishna and Kans made it so easy for him. Akroor thought this as a favour from Krishna.
Though Gokul was very near to Mathura, those days it was very difficult to cross it.
Akroor imagined, "I will see Sachhidanand in the form of Krishna with my own eyes. He will call me uncle and embrace me. I will get the special favour of his touch etc." Thinking this he reached Gokul.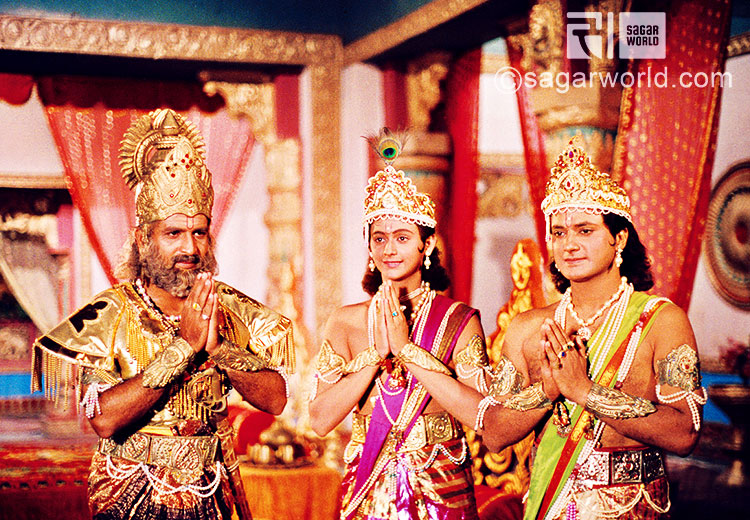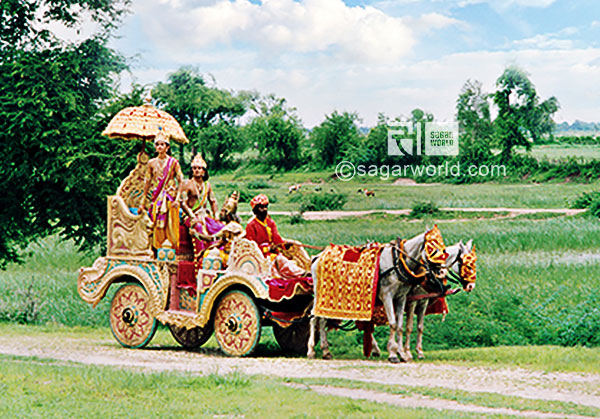 Akroor met Nandbaba, who called for Krishna and Balram.
As soon as Akroor saw Krishna, he was in tears. He was overjoyed to embrace him. Krishna welcomed his uncle.
Akroor asked Krishna about his well being just to talk with him otherwise Akroor knew that it was stupid to ask somebody who takes care of this world, about his well being.
Akroor gave the message of Kans to Nand. The next morning, Akroor with Krishna and Balram left for Mathura on a chariot. 
Gopi's and milkmaids tried to stop Krishna's chariot Krishna tried to convince them and went ahead.
On the way, they passed by River Yamuna. Akroor got down from the chariot to take a bath.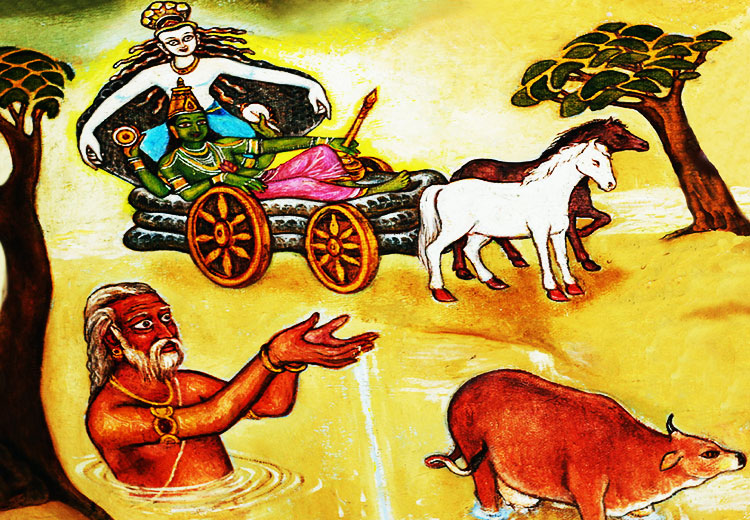 While taking a bath, Akroor was surprised because the moment he would take a dip in the water, he would see Krishna.
Akroor got scared and came back to see Krishna and Balram who were sitting on the chariot.
He understood that God is ubiquitous and Krishna is God. He smiled and sat on the chariot.
On reaching Mathura, Akroor asked Krishna to visit his house. But Krishna told him that he will come home only after he kills Kans.
Akroorji was sad to leave Krishna and go home all alone.
Krishna killed Kans and went to Akroor's house. Akroor was very happy as Lord, the one for who people spend years in devotion had himself come to Akroor's house for a favor.
Being a relative, Krishna sent Akroor to Hastinapur to get news of Pandavas.When Krishna built Dwarka puri, even Akroor went to Dwarka to live with him.