(Other names: Urvasi, Apsara Urvashi, Nymph Urvashi)
Urvashi is considered to be the jewel in the assembly of God Indra in the heaven. She is famous for her beauty and grace.
Once when she was dancing in the assembly, King Pururva was sitting in the front row.
Urvashi was fascinated by him and got distracted, so there was a difference in the timing of music in the dance.
At this, Indra got angry and cursed her to go and live in the mortal world. Urvashi fell down from heaven and got married to Pururva in the mortal world.
At the time of her marriage, she had kept a condition that if she sees Pururva nude or if he tries to have intercourse against her wishes or if her two goats are shifted from one place to another, then she will be free to leave the king and go to heaven.
Since a lot of days had passed after Urvashi left heaven, the Gandharvas (demigods) missed her.They made a conspiracy of stealing Urvashi's goats. The time when the reliable man sent by the demigods was stealing the goats, Pururva was nude.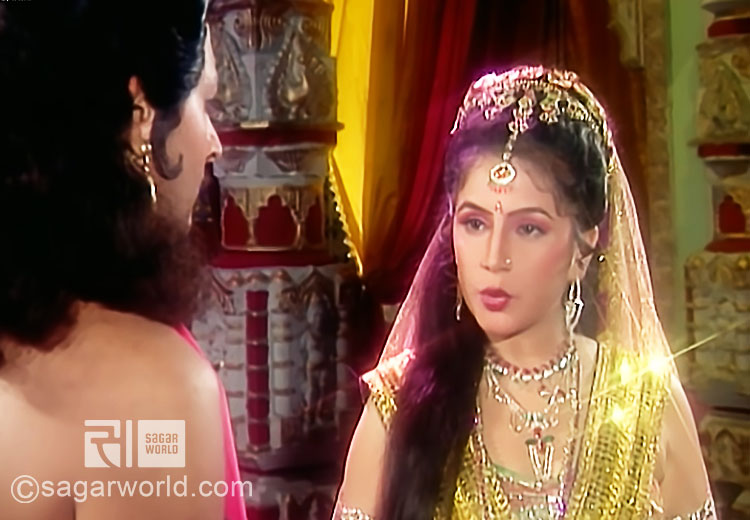 On hearing the sound, he ran to catch hold of him, just then the demigods spread light all over.
Urvashi saw Pururva in the nude and according to the conditions lay down by her; she left Pururva and went back to heaven.
There is one more famous story about Urvashi. Once, when Arjun had gone to Indra to learn military science, Urvashi was fascinated by him but Arjun saw her respectfully and declared his incapability to fulfill her desire.
At this, Urvashi got angry and cursed him that he will remain impotent for one year.
When Pandavas were living incognito, Arjun was living as Vrihanalla at Viraat nagari and that time he had to endure this curse.
Urvashi and her beauty are a legend. She has been used many times by many times by many authors since ancient times to describe the epitome of beauty and grace.