Now to invoke Lord Shiva, Bhagirath stood on the big toe of his left leg and prayed.
After he became absorbed in the name of Lord Shiva by constant japa (repetition) of the mantra "Aum Namah Shivaye", Lord Shiva appeared before Bhagirath.
Open your eyes, dear son Bhagirath, said Lord Shiva. I am pleased with your austere penance. Tell me what you want from me.
I will be more than happy to do it for you.Bhagirath opened his eyes and paid his homage to Lord Shiva.
He explained what Lord  Brahma had told him and requested Lord Shiva to hold the forcefully descending Ganga in his matted hair locks.
Lord Shiva assured Bhagirath that he would help him, so Bhagirath went back to Lord Brahma.
He told Lord Brahma about the promise of Lord Shiva and requested that Lord Brahma please release Ganga to Earth.
She said, "People will wash their impure bodies and put their waste material in my pure water, and I will become polluted.
Lord Brahma assured her that she would remain pure and instead would wash away the impurities of all who came in contact with her.
Their souls will get purified, Lord Brahma said. "And they will remember you with devotion."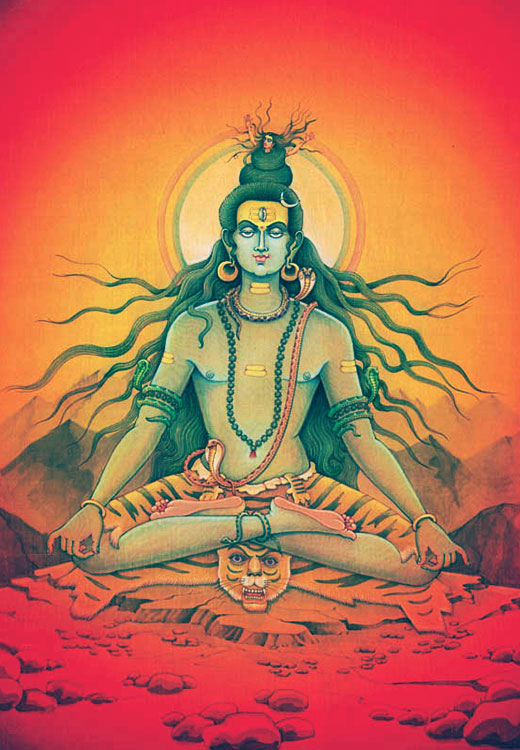 But Ganga was hesitant. The Kali Yuga was coming. Humans were going to be crazy after the gratification of their senses. They would destroy all of nature and, in the end, the Earth.
Lord Brahma said "Well Ganga. despite your fears, you still have to go to Earth anyway because of the curse of Rishi Durvasa.
Also you have to liberate the vasus, as you promised, so you have more than enough reasons to go to Earth.
Why hesitate? Go, and when your water becomes polluted come back." Bhagirath happily returned to Lord Shiva and told him the auspicious news.
Lord Shiva selected a suitable spot to receive Ganga and stood waiting for Ganga's descent. Ganga started her descent toward Earth with full force.
Lord Shiva spread his hairlocks and covered the entire sky. Then with a jerk, he shook his hairlocks and tied them on his head.
The size of Lord Shiva's hair locks was so big that ganga with all her waves, was easily captured. Not a drop of water came to Earth.
Ganga was still flowing with tremendous force inside Shiva's hair locks but the water could not escape.
Ganga became helpless. She felt like a prisoner in Lord Shiva's hair locks.