Late Dr. Ramanand Sagar's contribution to changing the Indian psyche through the magnum opus television series, Ramayana, in the year 1987 has been completely undermined by the pseudo-intellectual English press of India whereas the vernacular press hailed it. While the English press was busy criticizing the Ramayana for its poor production quality and bad graphics (one must keep in mind the severe limitations of technology at that time and even more limited cost of production) they missed the whole point. The series on Ramayana had the whole nation in a swoon. They were able to see their ancient epic beamed to their homes. The sale of television sets in India boomed to 300% during this period and heralded the growth of the television industry as it stands today – a multi-billion dollar industry in India.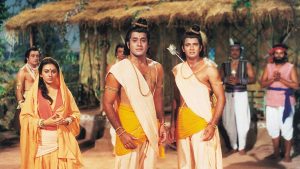 The idealistic depictions of the characters in the Ramayana series filled the hearts of Indians with sweet devotion and imbibed moral values to a population that was starved for content they could call their own. Despite his repeated efforts, the pseudo-secular Congress government at that time had refused permission for the telecast of this series to late Ramanand. For years he had to stay put in Delhi with great patience till he was able to break through the great Indian bureaucracy.
The extremely biased and skeptical government officials had an inclination that this series may not forebode well for their political careers and they were absolutely right. The tally of seats for the right-wing Bharatiya Janata Party (BJP) in the Lok Sabha went from 2 to 102 post the telecast of the series.
Many of the characters from the series like the Arvind Trivedi who played the demon king Ravana and Deepika Chikhalia who played Sita went on to win the elections. Ramanand was also asked to stand for elections, which he politely turned down as a genuine creative artist who had not made the series with any political intention or ambition in mind and who did not have the propensity to deal with the political circus also known as India. He simply gave vent to his years of pent up feelings of a sense of pride, which he felt for India's great spiritual and cultural heritage.
If our mythological epics, which have such beautiful cultural messages and values to impart to the entire humanity, will not be shown in India then will the American Government give permission to show them on their national television? It is ridiculous to even fathom that the Indian Government at that time could think of stalling such epics from reaching millions of Indians who read, write, pray and worship them in their daily life routine.
Of course things have changed much since those days. The "internet" connected a disparate religion like Hinduism that has no single body or authority or manager in charge of it unlike other centrally organized religions. A religion that offers a perfectly customized solution to the user, one without any do's or don't's, which is how religion should be fluid, non-political and tolerant.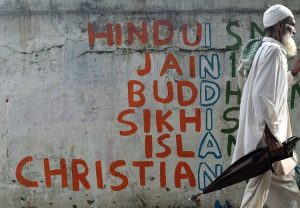 Yes, we are called the "Internet Hindus" now. God bless the Internet and social media, which allowed a diverse and non-united people (esp politically) to connect with each other and their leaders without the pseudo-secular Indian media filtering the news before it can reach the general public. But my question is that – Is it such a big crime to want to feel proud of one's cultural heritage? Our pseudo-secular press has so strongly imbibed in us their own moral and ethical value system that one must say in whispers, "I am a practicing Hindu".
I am for a blanket ban on religion! It has probably done more harm than good for humanity. I don't know. Personally it helped me make sense of the world around me. I am for a blanket ban on conversions. Religions like Hinduism/Judaism do not even have a process or ritual to convert. I always grew up with the belief that there are many different paths up the mountain, you can choose the one you want. I grew up reading Amar Chitra Katha comic books where Ramakrishna Paramhansa practiced Christianity and Islam in their full form and reached the same results he reached through Tantric practices. Films like "PK" are important to be shown in a country like India, which is so obsessed with god, religion, rituals and dogma.
Yes, we have a BJP Government in the center with an absolute majority and they have mopped up quite a few states as well. The government changed but the pseudo-secular mainstream media has not changed. They are the same people that have stood by through years of divide and rule policies of the Congress and most other political parties. Many of them are still in a state of shock and do not know what to write anymore in popular papers and journals. Barka Dutt looks so confused on television, as to which side to take? Karan Thapar still continues to write with such a heavy bias. There is absolutely no reason to hate people who are proud of their cultural heritage. If we wont stand up for ourselves why should we expect other people or races to stand up for us?
India is at a huge cross road. We are a divided people. The lines of divisions are becoming sharper and clearer as one scans through the news everyday. Finally it is all about power and control. The people who have been in power all these years are afraid of losing it. They have irrational fears that India might become a Taliban State. The path of India vs Pakistan is now clearer than ever.
It was the great secular vision on our first Prime Minister Jawarhlal Nehru who laid down the foundations of the state vs the jaded Islamic vision of Jinnah, one of the founding members of the constitution of Pakistan, that continues to reflect onto the consciousness of two countries. It took 68 years after India's Independence for the Hindu bloc to vote together politically, that is how long it takes for Hindus to even accept the label of "Hindus". That is called religion. That is called tolerance.