Life of Shakyamuni Buddha – The word Shakyamuni means the sage of the Shakyas, the latter being the name of Buddha's clan, which ruled over the Republic of Kapilavastu. Shakyamuni Buddha is the historical Buddha known as Gautam Buddha. Gautam Buddha was born as a prince known as Siddhartha Gautam in present day Nepal.
He encountered four sufferings common to all people—birth, aging, sickness and death. To seek their solution, he renounced his family and state and set out on a spiritual journey to search for the resolution of these sufferings. Buddhism is based on the teachings of Shakyamuni.
Shakyamuni Buddha is the founder of the Buddhist religion. He lived and taught in India in the sixth century B.C.E., a time of burgeoning religious and philosophical thought from Greece to China. Born as the crown prince of the great Shakya Kingdom, the young Siddhartha Gautama was groomed to be a king in accordance with the wishes of his royal father. However, when he was about 29 years old, he learned of the deep suffering experienced in life by people. He left his palace life, gave up his fine garments and jewellery in order to find the causes of this suffering and the means to overcome it.
After about six years of study, self-deprivation, and deep meditation he finally realized his goal. He had become an enlightened one, a Buddha. After this, he is said to have walked to a deer park in Sarnath (Benares) on the outskirts of Varanasi in India. Here he gave his first sermon, an event which is called the turning of the wheel of Buddhist law (Dharmachakra).
Benefits of having the Shakyamuni Buddha Painting
For many centuries, Lord Buddha paintings have brought in bliss, prosperity, and wealth. A Buddha painting for a home can be the perfect choice to choose a path of serenity. Lord Buddha is the symbol of peace, tranquillity and enlightenment. It is believed that a Buddha potrait removes the imbalances of life and following the principles help in maintaining a healthy, balanced lifestyle. A Buddha painting is also a very positive source of energy and a harbinger of prosperity for the household.
Gautam Buddha is a symbol of enlightenment, balance and inner peace. statues of Gautam Buddha are auspicious and harbingers of good fortune.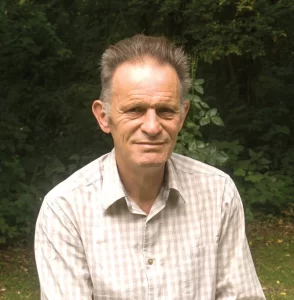 Pieter Weltevrede– is a Master "Sacred-Artist" based out of the Nederlands. After a many years of guidance, under his guru Late Harish Johari a successful author, a gifted painter and sculptor, a lifetime scholar, an inspiring teacher, a splendid cook, an ayurvedic massage miracle, etc., Pieter embarked on his own journey amalgamating ancient Indian knowledge with his own western sensibilities evolving an art form that appeals to todays international audience. He has been practising his art form from the last 40 years now.
His original paintings are in water colours on silk with a wash-technique that gives them a very three-dimensional feel. The complexity and detail in his works are a super-human endeavour as he continues to live a mundane life travelling between the Western World and India.
Here, 'Shakyamuni Buddha' is printed on coated matt paper by inkjet printer, using ultra chrome inks with an off-white paper mounting with golden border, and encased inside a fibre frame with acrylic sheet cover in the front.
Click Here to visit our Shop Site.