Bhaisajyaguru is a Buddhist deity also known as Medicine Buddha. He is depicted as sitting in a meditation posture wearing the robes of a monk, his left hand resting on his lap.
He is venerated in much of Mahayana Buddhism because of his powers of healing, both physical and spiritual. He is said to reign over a pure land called Vaiduryanirbhasa.The earliest mention of Bhaiṣajyaguru is found in a Mahayana text called the Bhaiṣajyaguruvaiḍuryaprabharaja Sutra, or more commonly the Medicine Buddha Sutra.
The Medicine Buddha is the patron of doctors and an avatar of the historical Buddha Sakyamuni. Moved by the plight of sentient beings, Sakyamuni abandoned his mundane existence and meditated on the cause of suffering until he attained full enlightenment. The Buddha's aim is to alleviating the torments of all beings, and lead them on the path to liberation. To this end, he transforms himself into a multitude of forms, bodhisattvas that branch out as a multitasking force to combat suffering and its causes.
According to a universal vehicle scripture, the Buddha transformed himself into a deep blue Buddha emanating healing rays of light and taught a vast assembly of men and gods the science of medicine.Medicine became a skillful means by which bodhisattvas not only soothed the suffering of others and prolonged human life, but also improved the unique human opportunity to attain enlightenment, their ultimate goal.
The Medicine Buddha, Menlha in Tibetan, is known in Sanskrit as Bhaisajyaguru. He is said to dwell in the pure land Aidūryanirbhāsa, or "Pure Lapis Lazuli" where he is attended to by Suryaprabha and Candraprabha, two Bodhisattvas who symbolize the sun and the moon.
Benefits of having Bhaisajyaguru potrait
Bhaisajyaguru is believed to have the power of healing. Mantras of Medicine Buddha is chanted to cure illness. It is also believed that chanting the name of Bhaisajyaguru Buddha in the ears of dying human gives them a good life in the next cycle of birth.

Hence, worship of Medicine Buddha also negates the past life Karma.

Meditating in front of the Medicine Buddha painting can help to alleviate physical and mental stress, increase healing powers both for oneself and others but also to overcome spiritual sickness, attachment, hatred, and ignorance.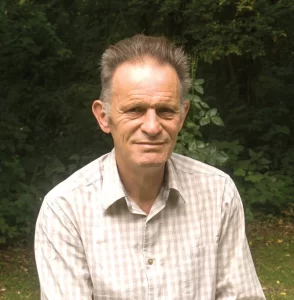 Pieter Weltevrede– is a Master "Sacred-Artist" based out of the Nederlands. After a many years of guidance, under his guru Late Harish Johari a successful author, a gifted painter and sculptor, a lifetime scholar, an inspiring teacher, a splendid cook, an ayurvedic massage miracle, etc., Pieter embarked on his own journey amalgamating ancient Indian knowledge with his own western sensibilities evolving an art form that appeals to todays international audience. He has been practising his art form from the last 40 years now.
His original paintings are in water colours on silk with a wash-technique that gives them a very three-dimensional feel. The complexity and detail in his works are a super-human endeavour as he continues to live a mundane life travelling between the Western World and India.
Here, 'Bhaisajyaguru Buddha' is printed on coated matt paper by inkjet printer, using ultra chrome inks with an off-white paper mounting with golden border, and encased inside a fibre frame with acrylic sheet cover in the front.
Click Here to visit our Shop Site.