The author of Ramcharit Manas, most respected by the followers of Sanatan Dharma, an eminent poet, Shri Goswami Tulsidas was born in a Sarayuparin Brahmin family on Shravan Shukla (the bright half of a lunar month) Saptami in the village Rajapur of Banda district of Uttar Pradesh in Samvat (the year of Vikram era) 1554. His father's name was Aatmaram Dubey and mother's name was Hulsi. At the time of his birth, Tulsi did not cry like other children but he uttered the word "Ram". He had all thirty-two teeth at birth and his body was like that of a five year old. Seeing such an unusual child, his father was scared doubting this to be a bad omen and started imagining about it. Mother Hulasi was very worried and fearing something evil to happen, on the dashami night, she sent her newborn child along with her maid servant to her in-laws house and she died the very next day.Chuniya, the servant brought up Tulsi with great love and care. When Tulsidas was five and a half years old, even Chuniya died and he without any guardian, started wandering everywhere. It is said that seeing this condition of Tulsidas, Mata Parvati everyday used to come in the disguise of a brahmini and feed him.
Here, with the inspiration of Lord Shiva, Shri Narharyanandji, disciple of Shri Anantnandji who lived in Ramshail, somehow found out Shri Tulsi and took him to Ayodhya. He named him Rambola. In Ayodhya, on Friday of Magh Shukla Panchami of Samvat 1561 he got Tulsi's Yagyopavit (the initiation ceremony among Hindus) done. It is said that without learning, child Rambola started reciting Gayatri Mantra to everyone's surprise. After this, Narahari Swami awarded Rambola diksha (initiation of a disciple) of Ram mantra and further educated him while staying in Ayodhya. Child Rambola was very bright and remembered everything that he heard just once from his teacher.
After few days both, teacher and student reached Sukar Kshetra. There, Shri Narahariji recited Ramkatha to Shri Tulsi. Later, they went to Kashi. Tulsidas lived in Kashi for fifteen years and learnt Vedas. After this, he came back to his native place. On reaching, he came to know that his father had died. He carried out the rituals of Shraddh (offering of food and water to Brahmins in honour of manes) and lived in his town. There he used to recite Ramkatha to people.
On Jyestha Shukla 13th day, Thursday of Samvat 1583, he got married to a woman of Bhardwaj Gotra (lineage). Tulsi loved his wife very much. It is said that once his wife had gone to her parents' house. Shri Tulsidas missed her so much that at night he reached her house. Seeing her husband in this condition his wife shouted at him and said, "The love that you have for this flesh and bone body of mine, if you would have had half of this love for God, you would have relieved yourself from difficulties."
Shri Tulsidas was badly hurt with these words. After this, he did not wait for a minute with his wife and went back.From there Tulsidas reached Prayag walking where he discarded his household clothes and wore that of an ascetic and left for pilgrimage. He went on pilgrimage for fourteen years.
Once again he reached Kashi. While he lived in Kashi, he versed Ramkatha to people. Here, he met with a goblin who told him about the place where he could meet Hanumanji. When Tulsidasji met Hanumanji, he requested him for the darshan of Shri Ram. At Hanumanji's suggestion, Tulsidas went to Chitrakoot where he got the darshan of Shri Ram. It is said that first time, Shri Ram had appeared in front of him as a prince but he could not recognize him. Second time lord Ram went to him as a child and asked for Sandalwood. This time with the help of Hanumanji, he had recognized Lord Ram. Seeing Ram as a child, Tulsidas was so overwhelmed that he lost his senses and Lord Ram took sandalwood paste from his hand and made a tilak on his forehead. This day was Wednesday, Mauni Amavasya, Samvat 1607.
With Hanumanji's order, in Samvat 1628, he went to Ayodhya where in Maagh Mela (fair) he got darshan of Bhardwaj and Yagyavalkya muni. From there, he came to Kashi where he tried to write poems in Sanskrit. But whatever stanzas he used to write in Sanskrit, at night it used to get erased. Later he got inspiration from Lord Shiva that he must go to Ayodhya and write in his own language and with his blessings Tulsi's creations would have its effects same as Saamved.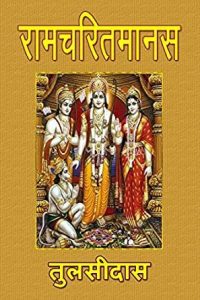 In Ayodhya, in the year Samvat 1631, on the day of Ramnavami, Tuesday morning he started writing Ramcharit Manas. He completed this granth (book) in 2 years, 7 months and 26 days.
At the completion of the book, with the permission of lord, Tulsidas came to Kashi where he read Ramcharit Manas to Bhagwan Vishvanath and Mata Annapurna and at night kept the book in the temple of Shri Vishvanathji. Next day morning when the temple gates opened, they found "Satyam, Shivam, Sundaram" written on the book and was signed by lord Shiva below. People present at that time also heard the hummimg of "Satyam, Shivam Sundaram."
It is said that when the Pandits heard of this incidence, out of jealousy they sent thieves to steal the book but when the thieves came near the cottage of Shri Tulsidas, they saw two guards with bow and arrows guarding the cottage. With their darshan the thieves' thoughts got sanctified and dropping the idea of stealing, started singing bhajans. When Shri Tulsidas came to know about this, he felt very bad thinking that it was because of him that lord Ram is going through pain and so he donated every thing that he had in his cottage and kept the book at his friend Todarmal's house.
After this, he created another copy of Shri Ramcharit Manas. Based on this, many more copies got ready and this way the publicity of the book went on increasing.To test his book, the critic Pandits kept on top Vedas, then Shastra, then Puran and then Ramcharit Manas at the lowest in front of Vishwanath Bhagwan and closed the temple. In the morning, when the temple doors opened, people saw that Shri Ramcharit Manas was kept on the top over the Vedas. This opened the eyes of the Pandits. Everyone apologized to Shri Tulsidas, washed his feet and drank that water thinking themselves to be fortunate.
In addition to Shri Ramcharit Manas, he has also written books like Vinay Patrika, Kavitavali, Dohavali, Geetavali, Ramlala Nahachu, Parvati Mangal, Janaki Mangal, Barvai Ramayan, Ramagya, Vairagya Sandipani, Krishna Geetavali, Ramsatsai, Sankat Mochan, Hanuman Bahuk, Ram Shalaka and Hanuman Chalisa. It is said that after writing Vinay Patrika, he had offered it to lord and lord Ram had signed it and given it to Tulsidas making him fearless.
Goswami Tulsidas's Ramayan is being read by every family in India with great honor. Ramcharit Manas is so effective that it has changed lives of many who were spoilt, has awarded salvation to many and shown the true path of worship. Many have had the fortune to see lord while reading Ramcharit Manas. This granth has also done an amazing work of bringing Shaiv and Vaishnavas together. This granth has unbelievable and indescribable benefits fro the whole of India and Sanatan Samaj. This can be felt only by the heart of a true devotee.
The greatest devotee of Sanatan parampara, Tulsidas got the whole society tied in one string with his bhakti Andolan (drive for worship). At the age of 126, in Samvat 1680, on Saturday, Krishna Tritiya of Shravan and on Assi Ghat he left for Saketlok uttering Ram name.