In the year 2003 at the age of 85 Papaji my reverend and respected father Dr. Ramanand Sagar worked meticulously on Sai Baba's research and script and personally canned the first 50 or so episodes. Televison Viewers went into a frenzy at the credibility and deep research on the life of Sai Baba by non other than Ramanand Sagar who had earlier earned a divine Halo by rewriting Ramayan and Shri Krishna in the electronic language for today's gene
ration. After the super success of the first 50 – 60 episodes on Star TV network, Ramanand Sagar realised that the real spiritual life story of Baba will now be extended to incidents in Baba's life. The intensity of Sai's spiritual journey, his biography, miracles, and teachings will now take a back seat. The balance Sai Baba serial he put to his children's responsibility. In his deep research and belief he wanted to give Sai Baba an identity of birth by show casing Sai Baba's mother circumstantially abandons him on a road side. I had gone to Shirdi with a synopsis for press release and placed it at Baba's feet for blessings. A gentle man from the sanstha met me at Swamy's south Indian cafe outside the temple. I was too naive to understand the equation he was trying to make having read the press release.
The Rise in Bhakts of Sai Baba in Shirdi
One day before telecast the Sanstha committee members came to Sagar Villa and compelled Ramanand Sagar to delete Baba's birth details. After the telecast of Sai Baba to millions of viewers globally, devotees of Sai started thronging Shirdi. There was a never seen before multi multi increase of mass mankind seeking Baba's blessings and multitude miraculous cures for their problems. Shirdi Sai Sanstha Hundis – money collecting bags started filling and being compared to Tirupati's Balaji's earnings. Ramanand Sagar was a firm believer in blessings of Saints and Sidh Purush's.
A visit to Shirdi and a Miracle Incident
During family's dark uncertain struggle days he would make genuine efforts to bestow their blessings. In mid 50s he took the whole family to Shirdi to pay homage to a genuine saint Sai Baba. Whose life like alive statue had recently been installed. we stayed the night in the chawl like Dharamshala which had common public wash rooms in the compound of the temple, it took us almost a whole day journey via Nagar to reach Baba's shrine.
In the morning we had Darshan of Baba in full glory and life like alive statue wonderful and blissful. The Neem Tree was there so also Dwarkamai. It was soulful divine bliss tirth with positive energy not experienced earlier. Year after year Ramanand Sagar and his family visited the holy shrine for Baba's blessings for more than 50 years. Even when my elder brother Shanti's daughter Geeta was hospitalised in Poona with fewer chances of survival, Papaji, at midnight despatched me to Shirdi for the miraculous bhasm from Baba's Samadhi. Bombay to Shirdi to Poona I reached in the wee morning hours. It was a miracle Geeta survived and is fit moving today after administering divine bhasm in her mouth. While in Coma that fateful night, she was on the last hope. The Doctor's had decided to inject her with sepsis drug 'Xigris' injection administered to high risk patients reducing their mortality. The lethal severe sepsis drug has since been banned worldwide from 2011.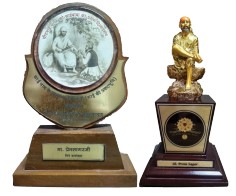 This incident was just a decade back. Sai Baba Sanstha has since honoured me twice. Once in Shirdi with actor Manoj Kumar who made the first film on Baba and second in Mumbai with V.I.P.'s who have a connect with Baba including actor Poonam Dhillon.