I must narrate a divine incident that took place on the sets of Uttar Ramayan (Luv Kush). Kak Bhushandi, the king of Crows cannot believe that this little child in King Dashrath's palace crying for milk is Vishnu avatar Shri Ram. He smuggles himself into the room of infant Shri Ram crying like a human baby. Suspicious Kak Bhushandi hops near the baby and snatches the roti (bread) in Shri Ram's hand. Baby Ram starts crying more loudly as all normal babies do. Kak Bhushandi is convinced that the baby in Dashrath's room is human and not God who cannot protect himself. While flying into the cosmos he realises that the little baby Ram is holding on to his feet and flying with him. A shocked Kak Bhushandi unsuccessfully tries his best to throw-ward off-the baby traversing through different loks – spiritual helms. He comes back to Dashrath's palace and cannot believe that the same baby Shri Ram is still sitting in the room and crying loudly.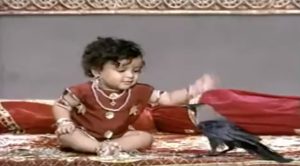 A realised Kak Bhushandi-King of Crows – becomes nat mastak and bows his head in bhakti to Vishnu's incarnation Shri Ram. Bhakt Kak Bhushandi is blessed with the rare divine Virat roop darshan of Shri Ram.
Divine incident which took place while filming the sequence
To film this sequence, over one hundred unit members and studio hands spend hours to catch a crow. After a day's hard work they managed to net/catch four of them. For the next day shoot the four were chained so that they do not fly or escape at night. By morning only one remained who also was fighting with his sharp beak to break the aluminium chain and escape to freedom.
Next day the shot was readied. Shri Ram as a baby in the middle of the room and the solo crow chained next to him. The lights were put on. Ramanand Sagar prayed silently while the solo crow was creating a ruckus for his freedom. He went to the scared crow, folded his hands in submission to Kak Bhushandi and at soul level pleaded…. "Kak Bhushandiji this episode has to be telecast this Sunday ….. I have come in your sharan …..please help me" ….there was pin drop silence, the ferocious crow was totally calm … it seemed Kak Bhushandi had descended onto earth into the Sharir-body-of the captive crow. Ramanand Sagar shouted 'Camera' – 'rolling' – the crow was unchained – for 10 minutes the camera was on. Ramanand Sagar kept giving instructions "Kak Bhushandiji go to baby Ram and snatch his roti…." – the crow followed the instructions to the and he  snatched the roti then gave it back to the whaling child, looked at him in doubt, gave every action, reaction and after 10 minutes of continuous filming he  just flew away. I was witness to this divine spectacle. It was without doubt Kak Bhushandiji – King of Crows – descended on earth into the body of the crow and fulfilled Ramanand Sagar's mission. Incidently the Katha of Ramayan was first naratted by Shiv bhagwan to Ma Parvati and Kak Bhushundi was also over hearing the same. Jai Shri Ram…. Jai Kak Bhushandiji.