Shaligrams, existing from millions of years, are normally spherical black coloured stones with abstract symbols. Shaligrams have marks with abstract symbols of Shankh (conch), Sudarshan Chakra (Vishnu's Divine discus), Gada (a type of club), Padma (lotus flower), the four symbols of Vishnu hence they remind you of Vishnu Bhagwan. If a Shaligram has the four symbols in order of as Bhagwan Vishnu holds them in his "chatur bhuj" – four hands – that is Shankh, Chakra, Gada, Padma (Lotus flower) then the Shaligram is called 'Keshawa'. If the order of the four symbols changes, then the name of the Shaligram changes. Twenty four permutation combinations are possible in the order of Vishnu holding the four symbols in his four hands. Hence among other names, there are 24 names of Vishnu attributed to different Shaligrams like 'Narayan' 'Madhva' 'Govinda' 'Padmanabha' 'Purushottam' 'Hari' 'Vasudeva' etc.,.
The Importance of Shaligram
The Shaligrams are worshipped by Vaishnavaties as the most sacred stone where Bhagwan Vishnu resides. It is believed that Shaligrams drown off all negative energies. As per shastras, shree Shaligram are worshipped for values of life, righteous living, wealth, protection, good health, pleasures and spiritual upliftment. Shaligrams are also worshipped in religious functions like 'Grah Pravesh' (house warming), marriages etc. Shaligrams cannot be bought or sold,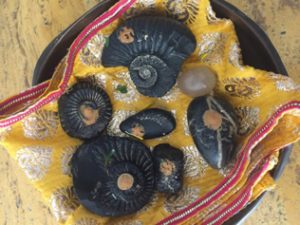 they are priceless, have no price tag and are passed on through generations. Money given to posses one is for expenses incurred to acquire it.
Presently,Shaligrams have known to be worshipped from Adi Shakaracharya's time, having been mentioned as commentary in his work like Taittiriya Upanishad and Brahma Sutra. In reality, this stone is shelter for a small insect known as 'Vajra-Keeta' that has a diamond tooth which cuts through the Shaligram stone and stays inside it. Vajra keeta worms drill the stone, get inside and live there. During their stay inside the stone they carve these chakras.
Shaligram in Sagar Villa and its story
Ramanand Sagar had some authentic, huge and rare Shaligrams in his temple at Sagar Villa. Ramanand and his wife Leelavati prayed to these spiritually charged Shaligrams daily with Tulsi leaves. Leelavati religiously performed abhishek of these Shaligrams which for years radiated peace and prosperity to Sagar family and their abode Sagar Villa. As per mythology, Shiv Bhagwan in disguise of a yogi opened his third eye in a fierce show down fight with king of Devtaas Indra. On realising the Yogi's true identity, Indra begged forgiveness. Shiv pardoned him and spared his life. Indra was thus saved from burning into ashes with the fire from Shiv's third eye. Shiv deposited the fire of his third eye into the ocean to avoid any destruction.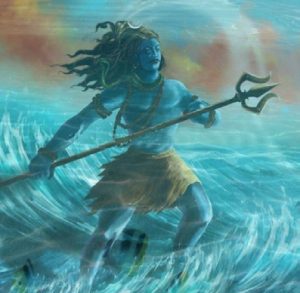 King of Asurs 'Jullunder' was thus born out of this fire energy. The wife of Jullunder, Sati Vrinda, was a param bhakt of Vishnu and desired to become Vishnu's wife in her next birth. Vrinda was the daughter of a very powerful Asur Kalanemi (Uncle of Ravan). Due to her devotion to Bhagwan Vishnu had attained the status of a Sati. She had enormous amount of yogic powers. To prove his supremacy. Asur Raj Jullunder got into a fight to death with Shiv. Sati Vrinda was performing a life saving hawan to protect her husband which if stopped will result in his defeat and death. Shiv and Jullunder combat looked like never ending.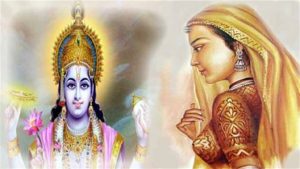 Hence Vishnu impersonating as Jullunder conspired and plotted to end Sati Vrinda's hawan. Vishnu transformed himself into Jullunder and came to Vrinda. Overjoyed at her husband's return Sati Vrinda ended her hawan. Immediately Shiv killed unprotected Asur Raj Jullunder. On realisation Sati Vrinda in her Sati dharma cursed Vishnu to turn into a black stone. Vishnu turned into a Shaligram and Vrinda was reborn as Tulsi. Asur Raj Jullunder went back into Shiv's third eye.
Hence till today Shaligrams are adorned with Tulsi leaves. Vishnu is worshipped with Tulsi leaves. No prayer to Vishnu is complete without Tulsi leaves. Tulsi vivah ceremonies are performed whereby Tulsi plant is married to Shaligram. Tulsi vivah signifies the end of monsoon and beginning of wedding season. Tulsi is termed as 'Vishnupriya' 'The beloved of Vishnu'. As per mythology 'Vajra-Keeta' insects only ate Tulsi leaves. The largest and heaviest Shaligrams are in Jagannath temple in Puri dedicated to Vishnu.
Shaligrams are found in the river bed or banks of the Gandaki River in Nepal. Gandaki River got its name since Maharishi Ghandak did his penance on its bank. Ghandaki is a very pious river since it was dwelling place for Maharishis like Durvasa, Kak Bhushandi, Shukh Dev, Sanakadi and many siddh purushs. Sage Valmiki also had his ashram on the banks of Gandak River. Birth of Luv Kush and entire chapter of Luv Kush in Uttar Ramayan including Ashwamedh yagya horse capture took place on the banks of Gandak River.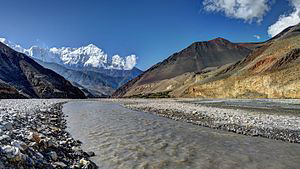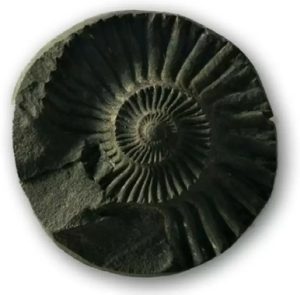 Black mud from the surrounding barren mountains flow into the Gandak River hence it is also called Kali Gandak. Pitra tarpan and pitra shradh are performed in Kali Gandak River, being an ancient river and a tributary of Ganga. Scientifically Shaligrams are considered as black coloured fossilized sea shell stones characterised by presence of discuss marks. They are found in river beds and regions that were once under water like the Himalayas including Nepal.