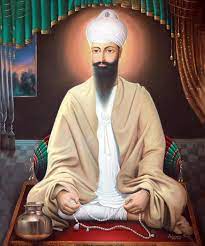 The founder of Namdhari Panth (sect), Ram Singh is one of those saints of India who has not only delivered religion in the right form to us but also has fought against the vices in the society. The father of Kooka Vidroh(revolt by a sect of Sikhs) Shri Ram Singh was a great preceptor and a social reformer who sacrificed his life for the betterment of the society.
Shri Ram Singh was born on Basant Panchmi in 1816 in the Bhaini village of Ludhiana district, Punjab. His father's name was Baba Jassa Singh and mother's name was Sada Kaur. He took his education at home as could not afford to go to school due to poverty. He used to listen to Ramayan, Mahabharat and stories of Sikh gurus from his mother which had a deep impact on his personality and he became very religious and fearless.
In San 1836 when he was twenty years old, he got enrolled in the army of Maharaja Ranjeet Singh. But upset with the behaviour of Sikh Sardars, in the year 1845, he threw his gun into the river Satluj and returned to his village Bhaini. That time, his father Jassa Singh got him married.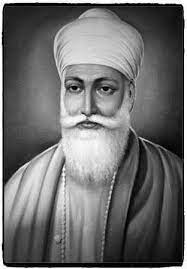 In the year 1841, when he was going to Peshawar with his regiment, he met Guru Shri Balak Singh at Hazron nagar. He got consecrated by Guru Balak Singh and was the most favourite disciple of him. After the death of his guru, while living at his hometown Bhaini, acquiring his guru's seat he carried out religious work. During that time, the call (kook) that Guru Ram Singh gave to oppose social and religious downfall, the people of his sect came to be known as Kooke.
On 13th April, 1857, Guru Ram Singh founded one more sect and named it "Namdari Panth". In this, he declared intoxication, theft, infidelity, killing, foeticide, dowry, selling and purchasing of women, killing of cows, child marriage etc. illegal and irreligious and started remarriage of widows. Apart from this, he opposed many malpractices in the society and got his followers together to bring about changes in society.
During this time, Shri Ram Singh started an upheaval against the British for the exploitation of Indians by British and spreading social unscrupulousness. He inspired people for the upheaval of boycott and noncooperation against British. Shri Ram Singh was the one who started non cooperation movement much before Mahatma Gandhi. Gandhiji was inspired from Ram Singh's movement to start movements like non cooperation. This way he was a guiding force for leaders like Mahatma Gandhiji.
Guru ram Singh always opposed foreign education and insisted on our education. He believed that there has to be only one language for the unity of our country and so he adopted Hindi language and inspired others to do the same. Influenced with his nonviolence movement, thousands of Kookes got together. His strength kept on increasing slowly and gradually with which the English government started getting scared. So they started harassing him in different ways. Firstly, they accused him of many things and then in January 1872, cannoned 68 Kookes.
In January 1872, on the orders of lieutenant governor, Britishers arrested Guru Ram Singh along with his chief Subedaars. After his arrest, firstly the English kept him till 10th March at the Allahabad fort and on 11th March, 1872, sent him to Verma.
At the jail in Verma, the Britishers harassed him with their atrocities and were so strict with him that his health went on deteriorating.
He was ultimately removed from jail and kept in a bungalow where Bahadur Shah Zafar was once kept. Later, the English transferred him to Margoi, a place on the seacoast so that no one could communicate with him. Here, in isolation, he died on 29th December, 1885. His followers firmly believed that he did not die due to atrocities of the Britishers but with his spiritual powers he disappeared and freed himself and that even today, he is prevalent and can manifest  anywhere, anytime.