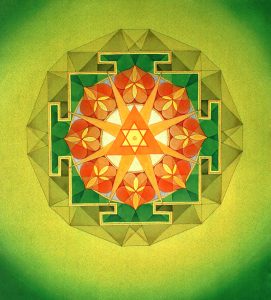 Ganesha Mandala (Olive) Painting
Hinduism uses a Ganesha mandala as a religious and symbolic representation of the cosmos and the god Ganesha. The mandala frequently includes elaborate geometric designs and representations of Ganesha, the god of knowledge and accomplishment. With olive green as the primary colour, a "Olive" Ganesha mandala artwork would probably show the representation of Ganesha at the centre of a mandala.
Ganesha mandalas are ancient symbols of profound spiritual meanings and offer a range of physical, mental, and spiritual benefits. In this blog post, we will explore the definition and origin of Ganesha mandalas, their different types, the various benefits, the purpose of invoking them, the preparation and ritual for invoking them, the ancient origins, their popular contemporary use, and more. Additionally, we will look at the principles of sacred geometry, the symbolic elements and cultural significance of Ganesha mandalas, the impact of meditation with them, and their connection to the divine.
What is a Ganesha Mandala?

A Ganesha Mandala is a circular diagram used for meditation and spiritual practice. It is used to invoke the Hindu god Ganesha, who is known for his wisdom and knowledge. The mandala has been a part of Hindu culture for centuries and is used to represent the divine and to bring peace and harmony.
Ganesha Mandalas originated in India thousands of years ago and are still a popular form of meditation and spiritual practice today. They are often used to represent the protective energies of the Hindu god Ganesha and to invoke his blessing and protection. There are many different types of Ganesha Mandalas, each with its own unique design and purpose.The different types of Ganesha Mandalas include traditional designs, geometric patterns, and abstract designs. Each mandala has its own symbolism and can be used to invoke specific energies or to bring peace and harmony. These mandalas can be used in meditation and spiritual practice to bring balance and awareness to the practitioner. The use of Ganesha Mandalas offers many benefits, including increased focus, clarity, and insight. 
The Holistic Benefits of Ganesha Mandalas

Mandala art has been used for centuries as a form of meditation and spiritual practice. The Ganesha mandala is a particular type of mandala that is believed to invoke the power of the Hindu deity, Ganesha. The use of Ganesha mandalas can offer numerous holistic benefits, both mentally, physically, and spiritually.
The mental benefits of Ganesha mandalas include peace of mind and improved concentration. Mandalas require attentive focus and can help bring clarity and calmness. Practicing the creation of Ganesha mandalas can also help to improve focus and concentration, which can be beneficial in many aspects of life.
The physical benefits of Ganesha mandalas include improved balance, physical strength, and enhanced flexibility. The practice of creating the mandala requires focus and attention to detail, which can help to improve coordination and balance. The process of creating a mandala can also help to strengthen muscles, improve flexibility, and reduce stress and tension in the body.The spiritual benefits of Ganesha mandalas include spiritual growth and increased connection to the divine. Mandalas can help to foster a deeper connection to the divine and provide a deeper understanding of the spiritual world. The process of creating a Ganesha mandala can help to open the heart and mind and inspire a deeper connection with the divine.
How to Invoke Ganesha Mandalas

Ganesha mandala is a sacred symbol of Hinduism associated with the deity of Ganesha. Mandalas can be used to invoke the presence of Ganesha and reap the many benefits of his powerful energy. The purpose of invoking Ganesha mandalas is to bring about positive transformation in one's life and create a space for inner growth and healing.
Before invoking Ganesha mandalas, it is important to prepare yourself by setting your intention and clearing your space. Meditate on the image of Ganesha and focus on the qualities you would like to bring into your life. Set up your altar with items that honor Ganesha such as candles, incense, flowers and other offerings.
The ritual for invoking Ganesha mandalas consists of creating a sacred space, lighting the incense and candles, and chanting mantras associated with Ganesha. Visualize Ganesha entering the space and feel his presence radiating within you. Offer prayers, gratitude, and any other offerings that you have prepared. When the ritual is complete, thank Ganesha for his presence and take some time to connect with his energy.
The History of Ganesha Mandalas

Ganesha Mandalas have a long and ancient history, dating back to the pre-Vedic era of India. The intricate designs of Ganesha Mandalas symbolize the various aspects of the Hindu god Ganesha and were traditionally used as a tool for invoking his power. As the popularity of Hinduism spread, so did the use of Ganesha Mandalas, with many different cultures and faith traditions adapting the design for their own use.
Today, Ganesha Mandalas remain a popular choice for many people seeking spiritual guidance and insight. They are often used as a meditative aid, helping to focus the mind and invoke the power of Ganesha. Additionally, Ganesha Mandalas can be used to promote healing and peace, with many believing that the positive energy they create can help bring balance and harmony to the mind, body and soul.
The contemporary use of Ganesha Mandalas is vast, with many different applications. They can be used in the home, at work or even as a form of art. No matter the purpose, Ganesha Mandalas are a powerful way to invoke the spirit of Ganesha and the many benefits he can bring. Whether used for meditation, healing, art or simply to bring beauty into a space, Ganesha Mandalas are a timeless way to invoke the power of Ganesha.
The Artist – Pieter Weltevrede
Pieter Weltevrede – is a Master "Sacred-Artist" based out of the Nederlands. After a many years of guidance, under his guru Late Harish Johari a successful author, a gifted painter and sculptor, a lifetime scholar, an inspiring teacher, a splendid cook, an ayurvedic massage miracle, etc., Pieter embarked on his own journey amalgamating ancient Indian knowledge with his own western sensibilities evolving an art form that appeals to todays international audience. He has been practising his art form from the last 40 years now.
His original paintings are in water colours on silk with a wash-technique that gives them a very three-dimensional feel. The complexity and detail in his works are a super-human endeavour as he continues to live a mundane life travelling between the Western World and India.
Here, 'Goddess Saraswati' paintings are printed on coated matt paper.
Click Here to visit our Shop Site.