Durga Mandala (Red) Painting
Durga Yantra is a sacred geometrical diagram to invoke and seek blessings from Goddess Durga. It gives strength to overcome difficulties in life and conquer enemies. The Yantra is contained in a Bhupur (a square with 4 T-shaped doors), the doors give access to the Yantra. The eight lotus petals represent 5 elements – Air, Fire, Water, Earth, and Sky, and 3 Gunas (vitrues) – Sattva (goodness), Rajas (passion) and Tamas (chaos). The 3 upward triangles re
present the masculine aspect of God and one downward triangle represents the feminine aspect. The concentric circles concentrates the consciousness of devotee toward the central point, Bindu, which is the most powerful part of the Yantra and represents the Supreme consciousness or the God, which is Durga in this Yantra.Printed on coated matt paper by inkjet printer, using ultra chrome inks with an off-white paper mounting with golden border, and encased inside a fibre frame with acrylic sheet cover in the front.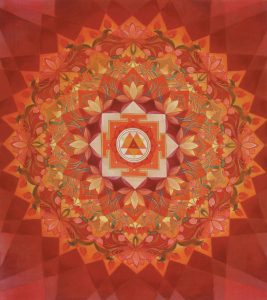 Hindu deity Durga is regarded as a fierce and strong embodiment of the mother goddess. She is frequently seen clutching weapons in her several hands while riding a lion or tiger. The Navaratri festival, which is a nine-night celebration of the goddess and her different manifestations, honours Durga, who is renowned as the goddess of war. She is revered as the slayer of evil and the defender of the virtuous. According to Hindu mythology, the gods came together to create Durga so they might battle Mahishasura the monster. The Devi Mahatmya, a Hindu epic poem, honours her life tale.
A style of painting known as a "Durga Mandala" features the Hindu deity Durga. Given that it stands for strength, power, and protection, the goddess is frequently connected with the colour red. The mother goddess' fierce and ferocious manifestation, known as Durga, is thought to be capable of vanquishing demonic and evil forces. A common representation of the universe and the harmony of cosmic forces in Hindu and Buddhist art is the mandala, a geometric pattern. In this situation, a Durga Mandala artwork would probably show the goddess in the middle of a mandala, surrounded by her symbolic objects and iconography.
The Durga Mandala is thought to have a number of spiritual and therapeutic advantages. A sacred geometric pattern known as a mandala represents the cosmos and the harmony of cosmic energies. It is thought to possess a potent energy that can help to promote harmony and calm by balancing the mind and body.
Some individuals think that concentrating on a painting or image of a Durga Mandala might aid in boosting spiritual awareness and fostering a deeper comprehension of the goddess and her teachings. Additionally, it is said to deliver protection and uplifting energy, especially to individuals who are experiencing overwhelming bad thoughts or trying circumstances.
The Durga mandala is also credited as having the ability to dispel difficulties, bestow blessings, and bring success in a variety of spheres of life, including health, riches, and careers.
It is significant to highlight that a person's faith and confidence in the efficacy of the goddess and the mandala are closely related to the advantages of the Durga mandala.
There are numerous conventional ways to invoke the Hindu goddess Durga, some of which include:
Puja (worship): This is a customary Hindu practise that entails praying to the goddess and making offerings to her. Mantras, incense, and other sacred objects might be used during this, which can be carried out at home or in a temple.
Meditation: During meditation, concentrating on a Durga mandala or image of the goddess can assist to create a stronger connection to her energy and teachings.
Chanting mantras: To call upon Durga's blessings and presence, recite one of her many potent mantras. Om Durgaye Namaha and Om Aim Hrim Klim Chamundaye Vicche are two examples of well-known mantras.
The nine-night Navaratri celebration is devoted to the worship of Durga and her many incarnations. The celebration usually takes place in September or October and may involve puja, fasting, and other spiritual rituals.
It's vital to keep in mind that a person's level of devotion to the goddess and their level of faith and belief may affect how effective these approaches are.
The Artist – Pieter Weltevrede
Pieter Weltevrede – is a Master "Sacred-Artist" based out of the Nederlands. After a many years of guidance, under his guru Late Harish Johari a successful author, a gifted painter and sculptor, a lifetime scholar, an inspiring teacher, a splendid cook, an ayurvedic massage miracle, etc., Pieter embarked on his own journey amalgamating ancient Indian knowledge with his own western sensibilities evolving an art form that appeals to todays international audience. He has been practising his art form from the last 40 years now.
His original paintings are in water colours on silk with a wash-technique that gives them a very three-dimensional feel. The complexity and detail in his works are a super-human endeavour as he continues to live a mundane life travelling between the Western World and India.
Here, 'Goddess Saraswati' paintings are printed on coated matt paper.
Click Here to visit our Shop Site.