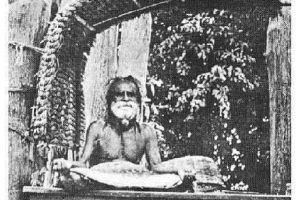 Shri Devraha Baba is one of those Indian Saints of modern India who had followers from a middleman to big industrialists, ministers and even the Prime Minister. Former Prime Minister of India, late Indira Gandhi also used to visit and follow Devraha Baba.
It is said that no one knows about the birth time and life of Devraha. After his death, it had come out in newspapers that Baba was around 800 years old. One devotee was serving him since four lives. Baba had meditated for 30 years at a crematorium, 50 years in Amarkantak and 90 years on the banks of Saryu River. He had performed penance for years at Nepal, China, Mansarovar and Tibet.
Apart from all these, there are many things said about Devraha Baba's miracles. The impact of this miraculous Saint was so much that whoever came close to him became his devotee. Whoever got the blessings of this godly Saint considered themselves most secured.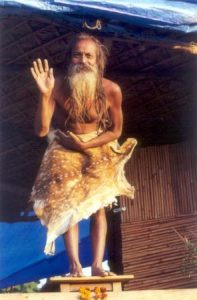 Most of the people do not know about his birth but in his book "Bharat Ke Mahan Yogi", Vishwanath Mukherji has written that Devraha Baba was born in Umariya village of Basti district. His father's name was Pandit Ramyash who had three sons- Suryabali, Devkali and Janardan Dutt. Janardan Dutt, with his austerity later became famous as Devraha Baba.
According to Shri Mukherji, Baba's age was not 800 years. In 1926, to learn Sanskrit, at the age of twelve or thirteen, he ran away from home and came to Kashi. This way, Devraha Baba's birth can be counted as around 1913-1914.
In 1930, Baba went to Haridwar along with Swami Niranjan Dev Saraswati. There, coincidentally he met his father in Kumbh Mela and he set to go back home along with him but on the way, in Ayodhya, his father died. After his father's death, unhappy with the fight with family, he went back to Haridwar. After this, where, when and how he observed penance, no one knows but after years of penance, he started living in Maeli village of Devariya district on the banks of river Sarayu.
Shri Devraha Baba never used to put on clothes but if any devotee would come to see him, he would wear a piece of loin cloth. He always lived on a scaffold. When desired would go to Mathura, Vrindavan, Zhansi and Ayodhya. He had a complete knowledge of Puranas and Upanishads. With foreigners, Baba used to talk in their language. He was a great ascetic. With the power of his contemplation, he had acquired "Eshana Shakti" (power to desire). With his divine sight, he would know about the incidences that were to happen in future and protect his devotees.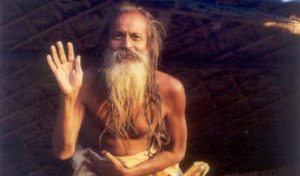 Once, Gulabdasji came to meet Baba at Ramnagar along with his family. Baba blessed a five-year-old girl who had come along to speak by giving her a banana to eat. At the same time ordered them to return immediately as a dangerous cyclone was expected.Gulabji looked at the sky. The sky was absolute clear but obeying Baba's order, they immediately returned home by boat. Moment, they crossed Ganga and reached the road after climbing steps of Banaras Ghat, the cyclone hit. There was too much of destruction due to this cyclone. After few days, the girl also started talking properly.
One more devotee of Baba named Ramkrishna, native of Shivala in Banaras, once went to Baba along with his daughter and nephew. Baba told them also to go back immediately as cyclone was expected and asked them to go to the ghat in front and go home only when the cyclone stopped. Ramkrishna set out in boat and started crossing Ganga. When he was half the way, a terrible cyclone came but Ramkrishna was shocked to see that water all around his boat was still and there was no effect of cyclone on the boat. Just as the boat reached the ghat and everyone got down they fell out and the boat was carried away. Ramkrishnaji lay there unconscious along with his kids. In spite of destruction all around them, they were secured. Late in the night when they reached home it felt like they got a new life.
Shri Satyanarayan Singh, in charge of Guthani police station in Saran district was worried as his daughter's marriage was not getting fixed. He went to meet Baba but as he could not meet Baba immediately, he started fidgeting with the pistol out frustration. When he went to Baba, without asking him a single question, Baba read his mind and blessed him saying, "Your daughter will get married where you wish her to get married but tell me one thing, is this pistol a real one or a toy?" Satyanarayan Singh replied, "It is a real one. Why would I keep a toy?" Baba said, "in that case, fire with this pistol." But in spite of many trials by Satyanarayan Singh, the pistol did not work. He understood Baba's trick and apologized to him. Lovingly, Baba said, "A person should not be pompous about his powers. Now you operate the pistol, it will work now." And this time, when Satyanarayan triggered the pistol, it worked. His daughter got married after few days.
Devraha Baba said that one should see Mother in the form of Sita and father in the form of Ram. Parents are the only deities as they give birth to their children. To serve them is like serving God. Also, one should always eat pure food. With this, a person's mind also gets a feeling of purity. Malicious food is the root cause of all the diseases and one should keep away from it.After living at Laar road, Baba came to Mathura and lived there forever. Here, on 21st June 1990, he breathed his last.