Jupiter (Brihaspati) Mandala Painting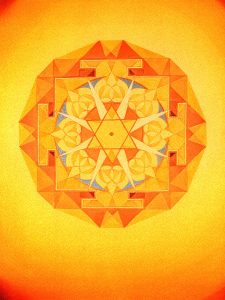 As the Devguru(teacher of Gods), Jupiter is the archetype that stands for profound spiritual wisdom, esoteric understanding of the eternal laws that govern this universe (such as the law of karma), moral behaviour, benevolence, kindness, healing, a good character, and most importantly, the expan
sion of all the positive qualities and things in one's being and life.
To make a long tale short, having a favourable and powerful Jupiter in one's horoscope is a divine blessing for living a fortunate life in which one excels in the areas Jupiter is placed. May the Divine Guru uplift and guard each of us. can be used as a powerful tool for invoking their divine energies.
For curious and enthusiastic amateur astronomers, Jupiter (Brihaspati) mandala painting is an interesting topic to explore. Mandala painting is an ancient art form that has been used for centuries to represent spiritual and cosmic forces. In this blog post, we'll explore the history of mandala painting, the symbolism associated with Jupiter/Brihaspati in mandala painting, how to create a Jupiter/Brihaspati mandala painting, and examples of these works of art.
The art of mandala painting has been around for centuries and is believed to have originated in India. According to Hindu mythology, mandalas are believed to be the representation of the universe. These works of art are seen as a way to gain insight into the spiritual world, and to understand the relationship between mankind and the divine.
In Hindu mythology, Jupiter (or Brihaspati in Sanskrit) is one of the most important planets and is associated with abundance, prosperity, and knowledge. As such, it is often represented in mandala paintings as a symbol of wisdom and enlightenment
.
Jupiter (Brihaspati) mandala paintings are works of art that can be appreciated for their beauty and symbolism. In these paintings, Jupiter is often represented as a bright yellow circle with radiating lines or rays emanating from it, representing its energy and power. Other symbols associated with Jupiter in mandala painting include a pair of scales, which symbolize justice, and a bow and arrow, which represent strength and courage.
Jupiter Yantra is a sacred geometrical diagram to invoke and seek blessings from planet Jupiter(Brihaspati). It bestows the worshipper with rank and authority and benefits the business and profession. The Yantra is contained in a Bhupur (a square with 4 T-shaped doors), the doors give access to the Yantra. The eight lotus petals represent 5 elements – Air, Fire, Water, Earth, and Sky, and 3 Gunas (vitrues) – Sattva (goodness), Rajas (passion) and Tamas (chaos). The six pointed star is a unique combination of upward and downward triangle which represents the union of male and female aspect of God. At the centre of the six pointed star is the central point, Bindu, which is the most powerful part of the Yantra and represents the Supreme consciousness or the God, which is planet Jupiter (Brihaspati).Printed on coated matt paper by inkjet printer, using ultra chrome inks with an off-white paper mounting with golden border, and encased inside a fibre frame with acrylic sheet cover in the front.
The Artist – Pieter Weltevrede
Pieter Weltevrede – is a Master "Sacred-Artist" based out of the Nederlands. After a many years of guidance, under his guru Late Harish Johari a successful author, a gifted painter and sculptor, a lifetime scholar, an inspiring teacher, a splendid cook, an ayurvedic massage miracle, etc., Pieter embarked on his own journey amalgamating ancient Indian knowledge with his own western sensibilities evolving an art form that appeals to todays international audience. He has been practising his art form from the last 40 years now.
His original paintings are in water colours on silk with a wash-technique that gives them a very three-dimensional feel. The complexity and detail in his works are a super-human endeavour as he continues to live a mundane life travelling between the Western World and India.
Here, 'Goddess Saraswati' paintings are printed on coated matt paper.
Click Here to visit our Shop Site.