Mars (Mangal) Mandala Painting – Invoke planet Mars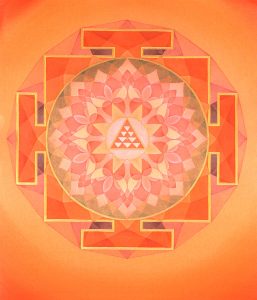 In Hindu astrology, Mars, also known as Mangal, is linked to vigor, bravery, and aspiration. As a meditation and visualization aid, a Mars (Mangal) mandala painting can be utilized to call upon the strength and energy of the planet Mars. It can also be a reminder to find one's inner power and resolve in order to accomplish goals. It is customary to utilize the Mars-related hues of red and orange while making a mandala for the planet Mars. Given that Mars is linked to the military and physical prowess, it is often usual to see symbols like tools or weapons included.
There are several ways to invoke Mars, depending on the individual's beliefs and practices. Some common methods include:
Meditation: While seated in a peaceful area, concentrate on Mars' energy and see it flowing through your body to give you bravery and drive.
Rituals: To summon the power of Mars, perform rituals like lighting a red candle, burning incense, or presenting offerings to the planet.
Affirmations: You can connect with the energy of Mars by repeating affirmations or mantras that are related to it, such as "I am filled with courage and strength."
Chanting: Chanting "Om Kram Krim Krom," the seed sound of Mars.
Mars Yantra: The Mars yantra can be used as a meditation tool to help you connect with th e energy of the planet.
Noting that these techniques are mostly based on Hindu and Vedic astrology, it is always recommended to speak with Before engaging in any rituals or meditations, consult a spiritual guide or practitioner
Mars is connected to the spiritual essence of Aries and Scorpio in Hindu and Vedic astrology. While Scorpio is linked to the virtues of change, regeneration, and spiritual force, Aries is linked to the virtues of courage, determination, and self-assertion.
Mars is known as the planet of conflict and violence, yet it is also connected to spiritual energy due to the way it motivates us to act in order to achieve our wants and goals. Mars can be a potent instrument for spiritual development by encouraging us to push past difficulties and hurdles.
Using Mars energy in spiritual practice can help one face life's obstacles with courage, conquer fear and doubt, and be assertive in the face of hardship, and courage. Mars' energy can also be used to let go of ingrained behaviors and welcome transformation and change.
In summary, Mars's energy can support spiritual development in areas like bravery, tenacity, assertiveness, transformation, regeneration, and spiritual power.
The Artist – Pieter Weltevrede
Pieter Weltevrede – is a Master "Sacred-Artist" based out of the Nederlands. After a many years of guidance, under his guru Late Harish Johari a successful author, a gifted painter and sculptor, a lifetime scholar, an inspiring teacher, a splendid cook, an ayurvedic massage miracle, etc., Pieter embarked on his own journey amalgamating ancient Indian knowledge with his own western sensibilities evolving an art form that appeals to todays international audience. He has been practising his art form from the last 40 years now.
His original paintings are in water colours on silk with a wash-technique that gives them a very three-dimensional feel. The complexity and detail in his works are a super-human endeavour as he continues to live a mundane life travelling between the Western World and India.
Here, 'Goddess Saraswati' paintings are printed on coated matt paper.
Click Here to visit our Shop Site.