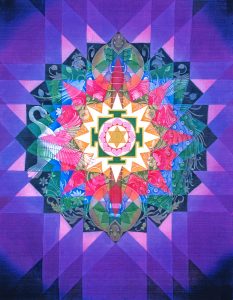 Matangi Mandala Painting – Invoke Goddess Matangi
The goddess Matangi is related to speech, the arts, and music in Hinduism. She is regarded as one of the ten Mahavidyas, a collection of goddesses that represent various facets of the divine feminine. A common representation of Matangi is that of a lovely woman carrying a vina, a musical instrument, and surrounded by dancers and musicians. She is also linked to the ability to influence people by speech, and it is thought that she can bestow eloquence and the capacity for doing so. In some cultures, Saraswati, the deity of learning, music, and the arts, is also thought to take the appearance of Matangi.
In Hindu and Buddhist spiritual activities, matangi mandalas are a type of traditional painting or drawing. It frequently has the image of the goddess Matangi, who is related to speech, the arts, and music. Mandalas can be utilised to ask the goddess' blessings and protection during meditation and are frequently employed as a focal point. Making a Matangi mandala can also be a method to express devotion to the goddess and establish a connection with her.
The Matangi mandala is thought to summon the goddess' blessings and protection since it is a symbolic representation of the goddess and her energies. Mandalas can be utilised to connect with the goddess and are frequently employed as a meditational focus. They can be made from a wide range of supplies, including paint, ink, and coloured sand. In temples and shrines devoted to the goddess, Matangi mandalas are frequently depicted as paintings or murals.
You can ask the goddess Matangi for her blessings and protection in a number of different ways. Typical techniques include:
Meditation: To connect with the goddess' energy and invoke her blessings, concentrate on the goddess' image in a Matangi mandala or just picture her in your mind.
Repeating mantras to the goddess, such as "Om Matangayei Namah," will aid to call upon her blessings and presence.
Puja: Offering the goddess a puja, or worship rite, can be a potent means to elicit her benefits. In addition to repeating mantras and singing devotional songs, this might also involve making offerings of food, incense, and flowers.
Offerings: Providing the goddess with gifts like flowers, fruits, and sweets will help you win her favour and demonstrate your dedication.
It's crucial to keep in mind that calling upon a goddess involves more than just requesting her blessings or protection; it also entails forging a closer bond with her. Studying her mythology, reading works about her, and applying her principles to your daily conduct are all possible ways to do this.
Making and using a Matangi mandala for meditation has a number of advantages. Among these advantages are:
Spiritual connection: Making a Matangi mandala might help you summon the goddess' graces and connect with her energies. By focusing on the mandala during meditation, you can strengthen your spiritual ties to the goddess and gain access to her knowledge and direction.
Creativity: Since Matangi is connected to speech, music, and the arts, making a mandala can help you access her energy and develop your own creativity. Mandalas are frequently employed as the centre of attention during meditation, and they can enhance focus and concentration.
Tension reduction: Making a mandala may be calming and meditative, which can help to lower stress and anxiety.
Healing: Some people think that the mandala's energy can be used to heal the body, mind, and spirit.
The advantages of making a Matangi mandala include not just the physical act of doing so, but also the spiritual connection and devotion to the goddess Matangi.
The Artist – Pieter Weltevrede
Pieter Weltevrede – is a Master "Sacred-Artist" based out of the Nederlands. After a many years of guidance, under his guru Late Harish Johari a successful author, a gifted painter and sculptor, a lifetime scholar, an inspiring teacher, a splendid cook, an ayurvedic massage miracle, etc., Pieter embarked on his own journey amalgamating ancient Indian knowledge with his own western sensibilities evolving an art form that appeals to todays international audience. He has been practising his art form from the last 40 years now.
His original paintings are in water colours on silk with a wash-technique that gives them a very three-dimensional feel. The complexity and detail in his works are a super-human endeavour as he continues to live a mundane life travelling between the Western World and India.
Here, 'Goddess Saraswati' paintings are printed on coated matt paper.
Click Here to visit our Shop Site.