The great Krishna devotee Bhakt Narsi Mehta was born around 1414 in a Nagar Brahmin family in Junagadh district in Kathiyavaad region of Gujarat. His father's name was Krishnadas and grandfather's name was Vishnudatt Mehta. As his father died when he was very young, he and his brother Bansidhar were brought up by his grandmother, Jaykumari.
Jaykumari was a staunch Vaishanvite and this had an impact on Shri Narsi. It is said that, in his childhood, Narsi could not speak and so his grandmother was worried whether Narsi would ever be able to speak in his life or not. Once, after listening to Bhagwat katha in a Shiva temple, while she was returning, she met a saint and told him of Narsi's problem. The saint smiled and sprinkled water from his Kamandal on to Narsi and whispered in his ears, "Bolo Radhakrishna" and Narsi immediately said, " Radhakrishna."Seeing this, his grandmother was overjoyed. This was probably the Mahamantra of Krishna's worship that the saint had whispered in to Narsi's ears.
In those days, in Gujarat, the milk business was carried out by the cowherds of Braj. Narsi used to ask questions about Shri Krishna and Radha to the people of Braj and listen to stories of Krishna leela from them. He used to get engrossed listening to these stories and go everywhere in the town where there was Bhajan–keertan. He used to get in to the groups of saints and sing songs of Krishna leela. Slowly and gradually, he got so attached with bhajan-keertan that he started spending most of his time singing them.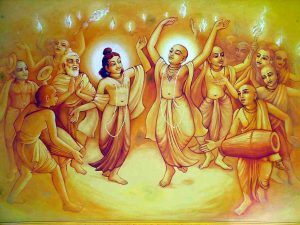 After he grew up, thinking that his behavior will change after marriage, his grandmother got him married to Manikbai. But even after marriage there was no change in Narsi's behavior and he remained busy with bhajan-keertan. Even after he became a father, Narsi's grandmother remained sad as Narsi was not earning a livelihood. His sister-in-law always taunted him saying that everyone was surviving on her husband's money. One day, as he could not bear the taunt of his sister-in-law, he left the house and went in to jungle. There, in a Shiva temple, he worshipped lord Shiva for seven days without food and water and became unconscious. In the end, pleased with his worship, Lord Shiva manifested and at his request, took him to Shri Krishna in Vrindavan. It is said that Lord Krishna had told him to recite his name and whoever would recite his name, Lord would always be by his side and never let him be without anything. It becomes Lord's duty to get him everything that he needed.
After the amazing darshan of Shri Krishna, Narsi came back home but after few days his brother and sister-in-law threw him out of the house. His wife was worried as to where would they go but Narsi was least bothered and relying on to Shri Krishna, set out. When they got tired walking, they reached a dharmashala where they were allowed to stay only for three days. Two days passed by staying hungry. Third day, seeing their children hungry, his wife started crying thinking where would they go the next day. Just then a man came and told him, "I have been looking for saints so that I can listen to Harikatha. I have mended one of my houses for you to live there. Please felicitate me by staying there." When Narsi went there, he saw that apart from the house, there was everything in the house needed as also food to eat.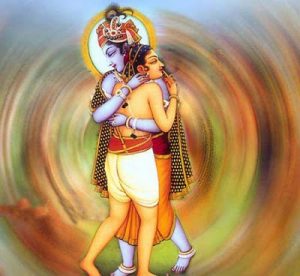 This was not the only incident where lord had directly helped Narsi. Since Narsi never thought of anyone else apart from Lord, even God always thought about him. That is why whenever Narsi needed help, be it his daughter's marriage, his father's Shraddh, God always helped him in one way or other and in any form.
Jealous with the growing popularity of Narsi, people of Nagar community accused him falsely in many ways and complained the king. The king called them and said, "If you are a true devotee then go to the temple and garland the idol with flowers and pray to god that he should make you wear the same garland with his hands and if this does not happen, you will be punished." Narsiji sat in the temple whole night reciting Lord's name. Next day, in front of everyone, the idol moved from its place and garlanded Narsi.
Once few people, sent a prostitute after Narsi but within few days, the prostitute left her profession and became an ascetic.
Narsi did not know to write and read but kept creating new bhajans while continuously singing them. He created bhajans in the thousands which is a precious treasure of Vaishnav literature. Based on his bhajans there are many poems written in Gujarati literature.His bhajans are sung not only in Gujarat but all over India. His bhajan "Vaishnav jan to tene re kahiye" was Mahatma Gandhi's favourite bhajan.
"Vaishnav jan to tene re kahiye, je peed parayee jane re,
Par dukhe upkaar kare toye man abhimaan na aane re"
(He is a Vaishnav who feels for the suffering of another and forgets the good he does to another never taking pride in it)
This greatest devotee of Lord Krishna left for heavenly abode in 1481 (some say 1487). Shri Narsi is also said to be the first Gujarati poet.