Whenever obscurity in the society increases, truth, non violence and love diminishes, to show a new direction to the society and to bring them on the right path, Saints incarnate on to this earth. Lord Mahavir is one of those great Saints. At the time of the birth of Lord Mahavir, due to the licentious Vam-margi (the tantrik mode of worship in which flesh, wine, fish etc. form part of the ceremonies) Pandits, the real Vedic religion had almost vanished. There was only hypocrisy, cheating and pretensions.
All kinds of atrocities were carried out in the name of religion. The society was in pain. There was havoc everywhere. Just at this time, by taking birth in India, Bhagwan Mahavir showed the path of truth, non violence and love to the society and directed to peace and prosperity. Bhagwan Mahavir was Nirgranth (without any knots) Muni (Saint) in the Jain religion tradition. He was the last and twenty fourth Teerthankar of the Jain religion.
Bhagwan Mahavir was born in 599 BC at Kundpur( Kundgram) in the Vaishali district of Bihar state on the thirteenth day of the bright fortnight of Chaitra month as a son to King Siddharth. His mother's name was Queen Trishala (Priyakarini). King Siddharth was the Kshatriya King of Gyatvansh in Ikshwaku lineage. Mother Trishala was the daughter of King Chetak, famous King of Vaishali. Since childhood, Lord Mahavir was full of knowledge and divine virtues.
Since the time when Mahavir was in his mother's womb, there was a regular increase in the income of money and food at the palace of King Siddharth. Because of this magnanimity, his parents named him Vardhman. His childhood was spent with great love and care. When he grew up, he got educated in all subjects and took knowledge of all Kshatriya Arts. In childhood, he was very much interested in games and sports.
But even after all royal education, he never used to hunt any animal. If any friend used to pluck flower, he used to be in pain thinking that the tree would be in so much pain. Since childhood, his heart was full of mercy and apathy.   
He used to be in pain seeing the social and religious mismanagement in those times and he always thought of doing something for unhappy people. Shri Mahavir wanted to observe celibacy all through his life but when he grew up, his parents got him married to King Samarvir's daughter Princess Yashoda. He had a daughter from this marriage who was named Priyadarshana. But inspite of living a householder's life, Bhagwan Mahavir's mind always thought of public welfare. The feeling of apathy in him went on increasing. He wanted to become Nirgranth Muni to serve the society. With this purpose, at the age of thirty years, on the tenth day of dark fortnight of Margshirsh month, Prince Vardhman left his palace and leaving behind all his luxuries and ornaments wearing just one white cloth, he walked towards the jungle.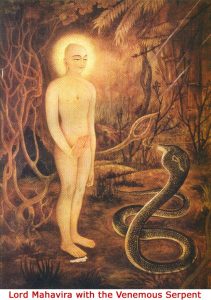 After reaching jungle, he dropped all his clothes and started deep penance. He fasted for six months without food and water. For months, he prayed while standing and sacrificing on his sleep. Out of twelve and half years of penance, Lord Mahavir ate his food only for 34 days and that too only once in a day. The rest of the days, he fasted. He had to face lot of troubles during his penance.
In the jungle, the cowherds set fire to his legs. They pierced his ears with iron nails and also insulted him in different ways. A demi-god of the crematorium named Ati-Muktak in Ujjaini, showered balls of fire on Mahavir, threw stones, created thunder and lightning but Shri Mahavir stood undisturbed and in the end, the demigod apologized to him and addressed him as Ati- Mahavir.
This way, after strong penance for twelve and a half years, under the Saal tree on the banks of river Rijuvalika, Shri Mahavir attained knowledge of the almighty God. He got four spiritual powers namely eternal knowledge, eternal sight, eternal strength and eternal splendour which are known as Anant Chatushtay (eternal quadrangle). Shri Mahavir became omniscient and omnipotent.
After attaining knowledge of the almighty, to reach his knowledge to each and every person, he started preaching them. While showing the path of salvation to people, he taught them about non-violence, no stealing, truth, minimal need and celibacy. He strongly opposed violence and campaigned for truth and non violence. He also opposed caste distinction and making the people of fourth caste of those times, his disciples made them equal. He also announced equal right to women as men and included many women as his disciple. He clearly said that every human being has the right to religion. It is a sin to differentiate on basis of caste, gender or colour. Anyone can attain salvation without any differentiation. There was such a power in his preaching that by explaining the real meaning of Vedas he made world famous pundit like Indrabhuti (Gautam Swami) along with 4400 more pundits his disciples. With his miraculous influence, many great Kings and officers became his follower. King Shrenik (Bimbisaar), Nandivarman, Chand, Pradyotan, Chetak, Udayan, Prasannchandra, Adinshatru and Prabhirti were the chief names form the Kings that were his followers.
Without any discrimination, Lord Mahavir had disciples from all castes. Of these, some were Saints where as some were householders.
Mahavir Swami had divided his followers in four sections. Monks, Saintly women, Shraavak (man who follows Jain religion) and Shraavika (woman who follows Jain religion). This is known as Chaturvidhi Sangh. In this Chaturvidhi Sangh, there were eleven group heads and the number of all the Munis was 14000, Aaryikaon (women munis) were 36000, one lakh Shraavak and 3 lakh Shraavika. Apart from this, the number of devotee was infinite.
While travelling to different places and preaching people, at the age of 72 years Lord Mahavir reached Pavapuri in Bihar state. There, in 527 BC on 15th October Tuesday, on the day of Deepawali Lord Mahavir left for heavenly abode and attained salvation.
Lord Mahavir was the redeemer of the society. By taking birth on this earth, he did such good to the world which cannot be described in words. The human society will always remain obliged.