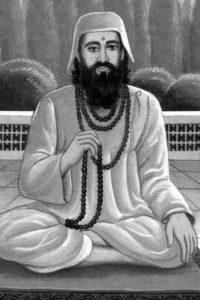 Public well-wisher, saviour of society and the greatest worshipper of humanity, Bhakt Baba Malukdas was born in Kada village of Allahabad district on Krishna Panchmi of Vaishakh month in Samvat (year of Vikram era) 1631. His father's name was Sundar das Khatri. Baba Maluk was an ascetic by nature and a devotee since birth. He had a natural feeling of serving the society. It is said that when he was five years old, while playing, he used to pick up stones and thorns from the road and put them aside so that no one gets hurt with it.
His arms were long till his knee seeing which once a saint had predicted that the child will rule seven islands when he grows up or will be a very great saint who will be praised by people of seven islands. The Saint's prediction came true word to word because later Shri Maluk had many followers and almost everyone in the society knew him.
When Maluk was 10-12 years old, once his father sent him to the market to sell blanket but on the way he distributed all the blankets to poor and Saints. Since childhood his heart was full of mercy towards all human. It is said that he was such a great devotee of lord that when he was eleven years old, lord had manifested in front of him and he got self-knowledge (knowledge of the spirit).
Baba Maluk was saint who lived a married life and also had a daughter but after some time, both mother and daughter died. He was left alone to live his life. He was initiated by Saint Vithaldas. Saint Vithaldas was the famous Saint of South India and was a great Saint and highly spiritualized person. Maluk was crazy about Ram and serving humanity. He was a devotee of absolute eternal spirit and always felt god within all human being and every insect. He had love for each and every living being. Maluk never believed in casteism and different religions. He said, "In the house of God there is no caste or creed. Whoever yearns or worships, God is with him."
Because of this thinking of his, Hindu, Muslim and people of all religions were impressed by him and became his disciples. The name of his most favourite disciple was Fateh Khan whose tomb has been built besides Maluk's tomb in Kada.  Aurangzeb, who always opposed Hindu religion was also so impressed by him that he gifted him land of two villages.
Shri Maluk always believed serving human to be the greatest worship of God. There is Lord within every human then there could not be a better way to serve god than serving all man. The greatest example of his social service is found in this incident- once when the epidemic plague had out broken in Kada, every day someone or the other died. Maluk, forgetting everything started serving the sick. To keep themselves away from this, people were leaving Kada. His father Sundardas had also decided to leave the village but Maluk was not ready to leave. In the end, inspired with his serviceable nature, even his father dropped the idea of leaving the village. Shri Maluk served the ill people and kept praying. The impact of his prayers was so great that miraculously the epidemic of Plague vanished from the village.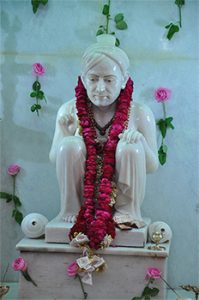 It was the impact of Shri Maluk's immense devotion that miraculously he diagnosed the trouble of many people and his fame went on increasing. Seeing his immense power, thousands of people started coming to him to talk to him and take his advice. This way, while praying god and working for the welfare of the society, Baba Maluk Das lived for 108 years on this earth and died in Samvat 1739.
It is said that just before six months of his death, he had seated his nephew on his seat and without any contemplation and with his powers he had took him to such a height where he got self-knowledge. Maluk Das's tomb has been built in Kada Village. Many seats of his sect are there all over India along with Nepal and Kabul. His poems in praise of lord are very imaginative and famous. Each and every child of village knows these poems.Maluk believed that if all human accepts the religion of humanity, he will become equal to God.