King Vikramaditya(Vikram) once again caught hold off Betaal and carried him on his shoulder. Betaal started telling him another story. It was a love story, he said,  which showed that love can raise a man to great heights, as also put him in a deep pit.
A magician named Abhijeet, from Gorakhpur, came to meet a rich man named Yashvant Dubey. With a magical stone, he turned all the man's earthen and brass vessels into gold vessels.
Yashvant was very happy and in return, promised him that he would marry his daughter Nandini to him. Abhijeet gave his magical stone to Yashvant. Just then Nandini's lover, a woodcutter named Sukesh, came and told Yashvant not to give away his diamond-like daughter for these gold. Sukesh and the magician got into a verbal debate.
The magician, with the help of a magical doll, trapped Nandini inside a mirror, and only he would have been able to take her out again. He then revealed that Nandini could be taken out only with the help of the magical doll, and also that his own life was encased in the magical doll.
As soon as Sukesh heard this, he snatched the magical doll from the magician and crushed it-and the magician died immediately.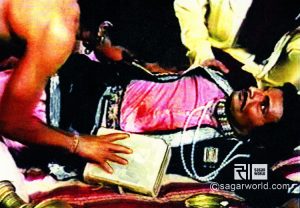 With his death, even the magical stone which was with Yashvant, vanished.Just as the magician fell down dead, a book of magical instructions fell out of his clothes. Sukesh ran home with the book and started reading it.
It said that a picture could be made live if one followed the steps written in the book, and within eight prahars only.  The first step was to go to the west of Gorakhpur, one yojan away, to a cave. Sukesh went inside the cave, and found a python was guarding it.
The moment he entered, the python enveloped him in its coils. With great difficulty, he was able to free himself from the python. He then went further inside.
He was then faced with fire. He chanted Goddess Durga's mantra and the fire went down. He went further inside the cave, and there he met a beautiful lady. She gave him somras to drink, as he was tired.
The moment he was made to drink that, he started getting enchanted by the lady's beauty. Sukesh was confused as to why he was feeling that way because he loved Nandini with all his heart, and thought he could not love anyone else. The lady told him that if he loved her, she would give him the Kailash flower, for which he had come .
Sukesh replied that Nandini was his soul, and if he loved the lady, he would not need the flower. The lady then told him that she realized that his love for Nandini was true and got him the Kailash flower herself. Sukesh went back with the flower, and with the help of it, got Nandini out of the mirror. Then they departed for Sukesh's house. Sukesh then told her that he would go to the city to get permission from his mother for their marriage.
Meanwhile, King Dharamveer, who was patriotic and had sacrificed his four sons for the country and also had lost his land fighting for his kingdom, was confronted by a sage, who told him that it was his lucky day and he would meet a beautiful lady that day.
If they get married, a son would be born, who would grow up and fight for him, and get back all the provinces that he had lost in war.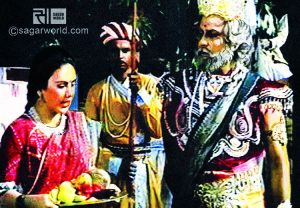 King Dharamveer went to a temple.Coincidentally, Nandini had also come to the temple that day. When King Dharamveer saw her, he told her that he wanted to talk to her and that he would visit her house in a day or two. Nandini walked further on. She was stopped by the rich man of the country.
He said that he wanted to meet her personally and talk to her.Nandini told him to meet her after one day, five moments after the sun sets. When he asked as to why they could not meet the next day, she said that Sukesh was to come back the next day.
Saying this, she walked on ahead. On the way the minister saw her and stopped her. He expressed his wish to meet her.
She told him to come the day after, just after six moments of the sunset. She refused to meet him on the next day, as Sukesh was to come.
She walked further on.  She was stopped by the chief minister who told her to meet him. She also told him to meet her the day after, seven seconds after sunset, and once again staunchly refused to meet him the next day as Sukesh was to come back.
Meanwhile, all three of them were envious of Sukesh, and each one of them planned to kill him. The rich man sent a man to kill him but Sukesh fought bravely and killed him. The minister's man tried to kill him with the help of a deadly snake but he was saved there also. Next, the chief minister sent a man who knew black magic. With his magic, he secured Sukesh with chains, but Sukesh was freed by a saint.
King Dharamveer came to meet Nandini. As he was talking to her, somebody knocked on the door.  Nandini asked the king to hide himself. As she opened the door, she saw the rich man standing there. She asked him to come inside. He told her that if she married him, he could give her all the happiness in the world. As they were talking, there was another knock on the door.
Nandini asked the rich man to hide. Similarly, the minister came and told her that he was fed up with his present wife, and so wanted to marry her instead. Once again there was a knock at the door and Nandini asked him to hide also. The chief minister was there, and proposed that she marry him. King Dharamveer was listening to all this. The door was knocked on again, and this time, it was Sukesh.
Nandini told him that the rich man wanted to marry her, and brought the rich man out of the hiding. Sukesh asked her why didn't she complain to the minister. Nandini replied that the minister himself was also there. At this, Sukesh asked her why didn't she approach the prime minister. Nandini once again told that the chief minister was also there! Sukesh told her that they should go at once and talk to the king about this.
King Dharamveer, who heard this, came out of hiding at that moment. He told his men that he was not after Nandini out of lust, but he was ashamed of the behavior of his men, and sent them all into exile.
Just then the sage manifested and said that that if Nandini willingly married King Dharamveer, the son born to them would  do wonders for the country. King Dharamveer then told Nandini and Sukesh that if he knew that they loved each other so much, he would not have come there. He cannot make his palace over the dead body of their love. Sukesh then said that though he loved Nandini very much, his love for his country always had the upper hand and he could sacrifice anything for his country if it was for its betterment.
Betaal stopped and asked King Vikramaditya as to who should Nandini marry, Sukesh or King Dharamveer. He forced Vikram to reply.Vikram replied that a man has three prime duties in life: the first one towards his parents, the second more important one towards his Guru, and the third and most important towards one's country. So Nandini would sacrifice her love, and accept King Dharamveer as her husband for the betterment of the country.
Namdini sacrificed his love, and offered herself to King Dharamveer and took his blessings.Betaal then told Vikram that he had made the right decision, but as he had opened his mouth to speak ,Betaal flew away as per his termsn