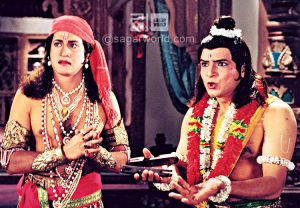 Devarshi Narad informed Satyabhama that Shri Krishna was coming to Dwarka with the Parijat tree. Shri Krishna returned to Dwarka with the Parijat. He was welcomed there. Satyabhama was very happy. She did the rituals for the Punyakvrat. Naradji got the rituals done and asked for a donation as per the custom.
Satyabhama offered him gold, diamond and jewels but Narad asked her to give him her most favourite thing. He took Shri Krishna from Satyabhama, whom she loved the most.
Then Narad asked Krishna to work like a servant. Seeing this, Satyabhama felt very bad. Rukmani and Jambvanti, the other queens of Krishna argued that they had not donated Krishna and so they wanted him back.
As the argument further increased, Narad told Satyabhama that she would have to weigh Krishna with gold and then only would Krishna be released from his service.
Satyabhama kept lots of gold but she could not equal the weight of gold and Krishna in the balance. Then Rukmani asked her to think of Krishna with all faith and put a leaf of Tulsi (basil) on the weighing scale. Satyabhama did the same and the scale was balanced. Satyabhama's ego of owning the Parijat tree burst.
Balram and Krishna were very happy when they got the news that Subhadra was pregnant and soon they were to become mama (uncle). They arranged for the Godbharai (to fill the lap of a woman with coconut / baby shower) ceremony.
In those days, Shri Krishna remembered his classmate and friend Sudama. Sudama was living a pious life, according to his regulation; he used to go to only five houses for alms. His life was being led in poverty.
Rukmani asked Krishna to help Sudama. Shri Krishna said, "I want to help him but he respects himself a lot and is a man of principles, he will not accept any kind of help from me."
One day, Sudama happened to meet his old friend Chakradhar.
Chakradhar advised him to ask for help from his gurukul friend Krishna. With his help, he and his family would get rid of poverty.
Sudama was not ready for this; there was an argument over karma (actions) and luck between Sudama and Chakradhar.
Sudama believed in karma. Chakradhar then went to Sudama's house and explained to his wife, later she agreed. She thought Chakradhar was talking sense. She insisted on Sudama to at least meet his king friend if does not anyone else. It was the king's duty to look after his subjects' welfare. On her persistence, Sudama agreed and went to meet the king.