Shambharasur called up for illusive demon and ordered him to kidnap Pradyumna. The demon went to Krishna's palace, picked up Pradyumna and flew away. Pradyumna started crying and on hearing this, Subhadra, Rukmani, everyone woke up. Arjun made the illusive demon his arrow's target, the demon's head was slashed and Arjun saved Pradyumna. Shambharasur ordered Pralayasur to kidnap Pradyumna.
Pralayasur with his magical tricks reached Dwarka and picked up Pradyumna and flew off in the sky. On hearing Pradyumna cry, Balram came and challenged Pralayasur. A battle was fought between Balram and Pralayasur where Pralayasur was defeated.
Pralayasur thought of killing Pradyumna himself and reached the palace of Dwarka in disguise. With magic he created a duplicate Pradyumna and left him with Rukmani and flew away with the original Pradyumna.
Then as Pralayasur was about to kill him with his sword, Naradji came there and explained to him that killing a child does not suit him. At this, Pralyasur threw away Pradyumna in the sea where a big fish swallowed him.
Balram's soldiers searched for Pradyumna in all directions but they could not find him so they returned unhappy. Then Balram picked up his divine weapon and looked up in the sky with anger. Naradji told Krishna to pacify Balram or otherwise it would result negatively. The earth was shivering due to Balram's anger.
Shri Krishna told balram, "You are the incarnation of Shesh naag, cool down, Kamdev is incarnated in the form of Pradyumna and his goal is to kill Shambharasur. Please don't worry about Pradyumna." Balram cooled down.
A fisherman found the big fish. The fisherman gave it as a gift to Sambarsur. Sambarsur asked his cook Bhanasur and Bhanamati to make a tasty dish of the fish.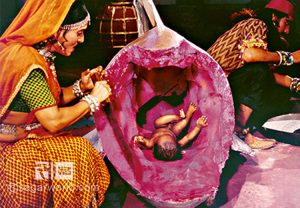 When Bhanamati cut the fish, she found Pradyumna inside. Bhanasur and Bhanamati decided to rear it like their own child.
Shambharasur was happy to hear this and unknowingly blessed Pradyumna.
In Dwarka, Satyabhama and everyone were unhappy because of Pradyumna being kidnapped.
Shri Krishna and Rukmani assured Satyabhama that Pradyumna was safe and he was kidnapped for some good cause and there was nothing to worry about.