(Other names: Pruttha, Pritha, Kuntee)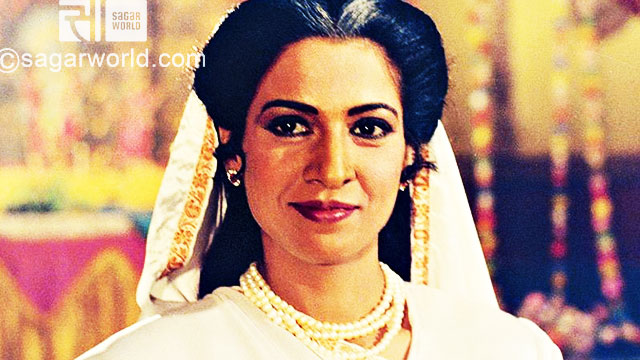 Kunti was king Shursen's daughter and sister of Vasudev, the father of Lord Krishna.
Hence, she was the aunt of Lord Krishna Vasudev's sister.
Her childhood name was Prutha and King Kuntibhoj had adopted her.
She was nurtured at Kunti Bhoj's place that is why she became famous in the name of Kunti.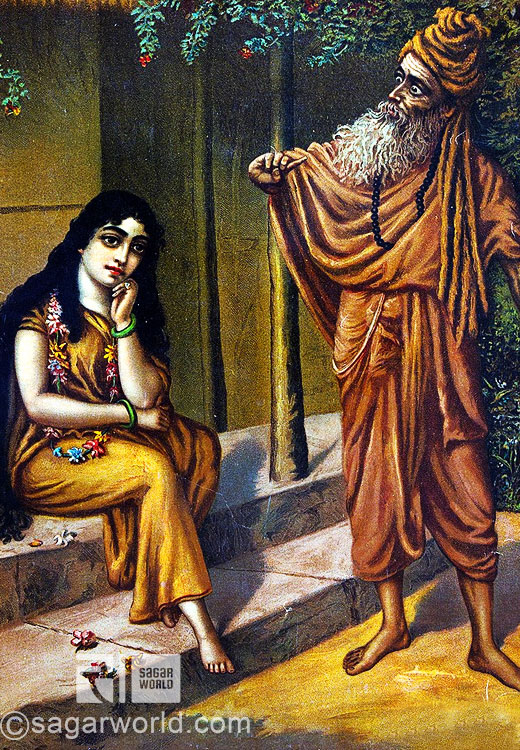 Once, Sage Durvasa came to Kuntibhoj's house. Kuntibhoj entrusted Kunti with the arrangement of the welcome of Sage Durvasa.
Durvasa was pleased with Kunti's service and so gave her a mantra (charm). On muttering this mantra, she could summon any deity and bear a child from the deity.
To test this charm, Kunti summoned for Surya (Sun) even though she was unmarried. With the conjunction of Surya and Kunti, the famous archer Karna was born.
Due to the regard for public opinion, Kunti set afloat the child in the river, where Kauravas charioteer Adhirati found him in the river and nurtured him.
Kunti was married to Hastinapur King Pandu. Once, Pandu was wandering in the jungle. There Sage Kimidum was with his wife who was in the form of a deer. The female deer died with Pandu's arrow.
At this, the Sage cursed him that the moment he will try to have a physical relation with a woman, he will die. Pandu became unfit to produce a child. Then with a desire to bear a child,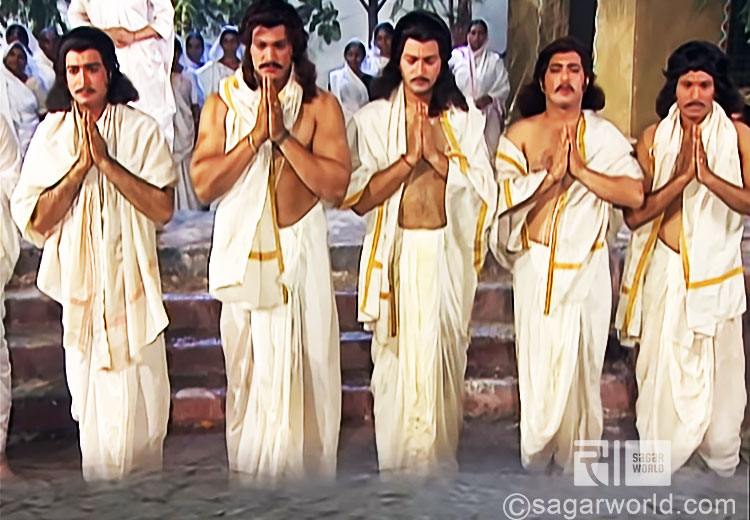 Kunti summoned with her mantra and gave birth to Yudhisthir from Dharma (the lord of Dharma), Bhima from Pavan (the lord of wind) and Arjun from Indra (the lord of devtas in Heaven). Pandu's Second wife Madri also used this charm and summoned Aashwini Kumars and gave birth to two sons Nakul and Sahadev. These five sons together were called Pandavas.
Kunti preached her sons to abide by the path of religion and fulfill the purpose for which Kshatraanis (ladies of the Kshatriya class) give birth to their children. She was a very strong influence on the life of the Pandavas.
She did not want the Kauravas and the Pandavas to fight. She instilled in her children good virtues and taught them the path of righteousness. Kunti is counted as one of the Panchkanyas (according to Puranas they were considered Virgins).
After the death of king Pandu, Kunti led a painful life. But she was very considerate and had great patience, so ignoring her sufferings and without worrying even a bit, she kept to the religious path and bore the atrocities of Duryodhan silently.
She even asked her nephew Lord Krishna for a strange boon that: "O Lord, give us the boon of sorrow for I may perhaps forget you in comforts but in sorrow you will always remain in my mind".
During the war of Mahabharata, when she came to know about Karna's vow to slay Arjun, she met Karna and asked him not to do so revealing to him the truth that he was the brother of Pandavas.
Karna was in great confusion as he can not betray his best friend Duryodhan and at the same time cannot disregard his mother's orders.
Finally he promised his mother that including him, five of her sons will always remain alive. In the end, Karna died and the five Pandavas stayed alive.
After the war of Mahabharata, Kunti went to the jungle with Dhritrashtra and his wife Gandhari.
There she died due to forest conflagration. Since the very beginning, Kunti's life was an example of abandonment, penance and detachment.