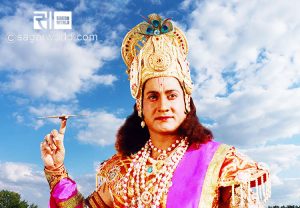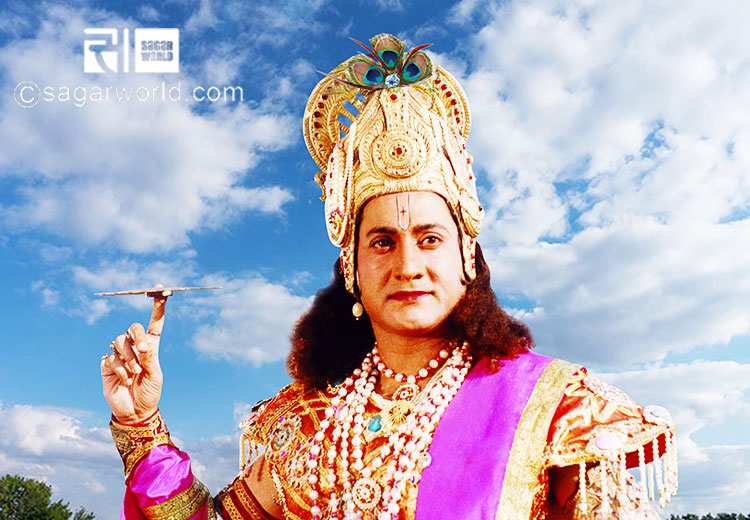 Before the war, Pondruk attained a divine weapon by doing a yagya. In the war, Pondruk who was the duplicate of Krishna and Dwarkadhish Krishna confronted each other. Kashiraj and Pondruk, both were killed by the hands of Krishna. Veermani, devotee of Krishna became the ruler of Pondruk's city. The subjects gave him a warm welcome.
Kashiraj's son Durjay, to take revenge from Krishna, with his infernal knowledge, created Kritaya and sent him to Dwarka to kill Krishna and Balram. Krishna killed both Kritaya and Durjay with his Sudarshan Chakra
Ego stories of Bheem,Arjun and Balram
After killing Pondruk and his associates, Shri Krishna sent a divine lotus from the lake to Draupadi to destroy Bhimsen's ego. Draupadi asked Bhimsen to get the same lotus for her.
Bhimsen defeated the demigods and the deities guarding the lake and reached the lake where he met Hanuman.
Due to the friction between Hanuman and Bhimsen, Bhimsen's ego dashed into pieces.
Arjun was very proud of his knowledge of archery. He used to disdain even a great archer like Lord Ram.
For the bridge made by Lord Ram to reach Lanka, Arjun commented that if he would have been in Ram's place, he would have made the bridge with the arrows only which would have been much stronger than the bridge made of stone.
Shri Krishna wanted to break Arjun's ego into pieces. With His inspiration, Hanuman challenged Arjun. Arjun made a bridge of arrows.
Hanuman broke the bridge with his legs and with this Arjun's ego burst.
Shri Krishna also wanted to break Balram's ego through Hanuman. According to his wish, Hanuman went to the garden of the palace of Dwarka and created disturbance there.
The garden's guards complained to Balram about this. Balram instead of fighting with the monkey sent his commander of the army.
The commander was defeated by Hanuman. Then Balram himself came to the garden where he fought with Hanuman. Balram picked up the divine weapon plough in anger.
Hanuman, how much ever strong he was, he was weak in front of the incarnation of Sheshnaag, Balram. He could not compete with Balram. Hanuman called for God to help him.
Shri Krishna manifested and explained to Balram to set aside his ego. With Hanuman's prayers, Ram, Sita and Lakshman appeared in the form of Shri Krishna, Rukmani and Balram. Hanuman prayed to them all.