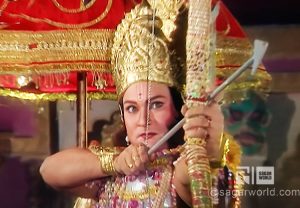 Pleased with prayers of Pradyumna and Bhanamati, Goddess Parvati manifested and consoled them that the Mudgar (non failing) weapon given by her to Shambharasur would lose its impact. "Kalpurush" manifested and warned Sambarasur. Shri Krishna predicted that Shambharasur would be defeated.
Shri Krishna defined religion and irreligion by saying that he had thought that Shambharasur would use his intellect and power for religion, but it did not happen so. Pradyumna and Shambharasur fought a battle.
Shambharasur made Bhanamati his captive with irreligious and illusive powers. Pradyumna was deceived first but later broke off his illusive tricks and Bhanamati was relieved.
During the war, Sambarasur used his powerful weapon, Mudgar. But Mudgar bowed to Pradyumna and flying in the sky went off to Maa Parvati. Pradyumna used Vishnu Ashtra and killed Shambarasur. The deities were very happy with this.
Bhanamati's goal in life was achieved. She prayed to Shri Krishna for salvation and Krishna granted her salvation. Pradyumna got back his real mother Rukmani.
Lord Ram was incarnated as Krishna in the Dwapar age. In this age only Pavanputra Hanuman was observing penance for ages in a desire to get a glimpse of Lord Ram.
Narad used to think himself to be the greatest devotee of Lord Ram and to prove that Hanuman was not a great devotee, he asked him to go to Dwarka and see Krishna.
Hanuman said, "I am a devotee and I can do it only if God wishes me to do so." Then on Narad's instigation, Krishna went to meet Hanuman on Ramnavami in the disguise of a Brahmin.
Hanuman recognised him by his legs and kept his head at his feet. Shri Krishna praised his devotion.
Rukmani was very happy to hear this, Narad's ego was torn apart and he apologised to Krishna for this.
The age where there was a devotee like Hanuman also had an egoistic king like Pondruk who used to call himself Krishna. He had attained mace, conch shell and the chakra (wheel), so he called Dwarkadhish as a duplicate Krishna.
Pondruk dreamt of establishing his rule everywhere. He banned worship of anyone else except him in his state. In this drama, his cousin brother Randhir and Varanasi King Kashiraj also supported him.
The oppressor Pondruk harassed the saints, kidnapped beautiful ladies. His wife tried to explain him but he did not listen. He troubled a child devotee of Hanuman but Hanuman protected him. Hanuman reached Pondruk's town and made him understand that he should follow the path of religion.