(Other names: Kamadeva, Ragavrinta, Ananga, Kandarpa, Manmatha, Manosij, Madana, Ratikanta, Pushpavan, Pushpadhanva, Kama).
Kamdev is said to be the God of Love (Western equivalent of Cupid). According to Atharvaveda, Kamdev was the first to germinate. According to "Taittareeya Brahmin" (an Upanishad of the Taittareeya branch of Yajurveda) he is the son of Shradha and according to Harivansh Puranas he is said to be the son of Lakshmi. He was the member of Lord Indra's assembly.
Rati was the name of Kamdev's wife. Whenever Lord Indra wanted to dissolve anyone's penance, he would send Kamdev only. Urvashi, Menaka the nymphs used to become a resource of breaking the austerity.
Once, Kamdev tortured Brahma so much that he was fascinated with his own daughter. After this, Brahma cursed him that he will be reduced to ashes by Shiva.
When Kamdev said that he was not at fault for this, he had just done his duty, then Brahma said that after being destroyed by Shiva, he will reside in the following place- a woman's sidelong look, thighs, breast, shoulder, lips etc.
Parts of the body and spring season, rainy season, moonlight, cuckoo's voice and in the months of Chaitra and Vaishakh in the Hindu calendar (approximately April- May according to the western calendar).
Lord Shiva was in devout austerity in the Himalayas. Parvati thought of captivating him with her charm and went to Shiva along with Kamdev and broke Shiva's austerity. When Shiva opened his eyes, Parvati's beauty and charm did not affect him.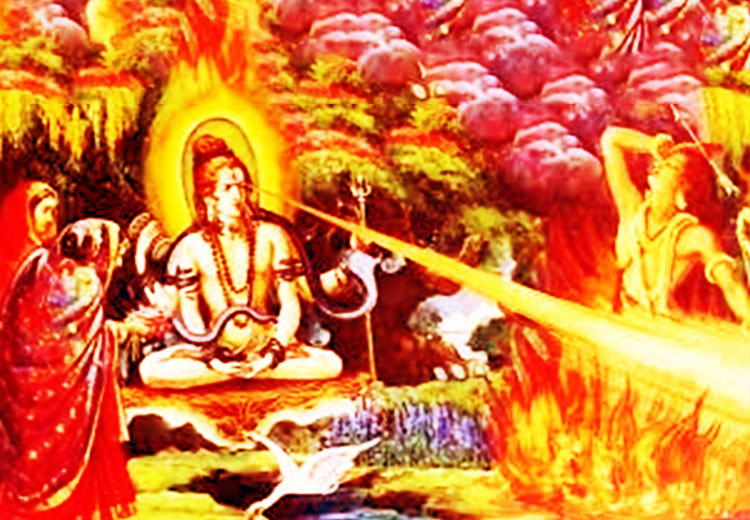 At this, Shiva thought that the reason for the break in his austerity is not from within, it has to be from outside only. Just then, he saw Kamdev on a tree with the bow of flowers.
Shiva was very angry and he opened his third eye and Kamdev was reduced to ashes. When his wife Rati started lamenting then Shiva permitted Kamdev to live bodiless.
That is why Kamdev is also called "Anang"   (bodiless) and so Kamdev is believed to be such a God who does not have a body but lives in the form of affection and desire.
After Kamdev became bodiless, Parvati had to go through deep austerity to get back Shiva. In the Dwapar age, Kamdev was born as Shri Krishna and Rukmani's Son Pradyumna.